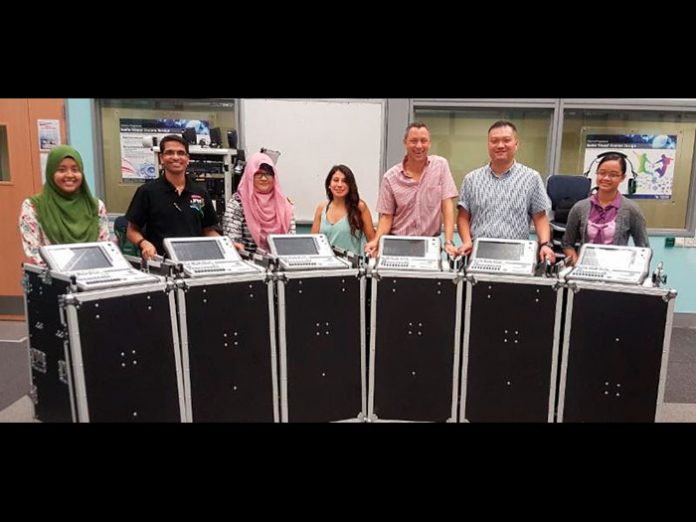 Singapore's Nanyang Polytechnic has invested in eight Avolites Quartz consoles for its Electronic Engineering course, which offers a specialist final year of AV System Design.
Nanyang Polytechnic (NYP) is located in Yio Chu Kang next to Yio Chu Kang MRT Station, Singapore. More than 15,000 students attend, on a campus of 30 hectares.
The Polytechnic approached Singapore-based Total Solution – a leading distributor of premium professional Light, Sound and Rigging products in Asia – to upgrade its existing lighting consoles for the course. Total Solution's Executive Director Tevin Heng demoed the Quartz console to the institution.
"NYP felt they needed to upgrade to a higher scale and more user friendly lighting console, and had always heard about Avolites' popularity in our region and therefore invited us to demo the Quartz," said Tevin. "They were immediately impressed by the fact that Quartz is super compact and lightweight yet is packed with all the functions of Avolites' bigger consoles, such as the Tiger Touch II.
"With Titan V9, it offers so many amazing features such as Key Frame Shapes, Quick Sketch and Multi-band sound to light triggering that it's perfect for students to intuitively learn how to control light in inspired ways."
Quartz is the newest addition to the Titan Mobile family, complete with on-board processing and a bright, vibrant 12.1-inch screen. Measuring only 42.5cm wide, the Quartz is designed for lighting projects ranging from touring and festivals to clubs and one-offs.
"As this was a substantial investment, NYP also considered the reputation and after sales service track record for the respective consoles' local distributors," Tevin continued. "NYP has worked with Total Solutions since 2012 and are extremely pleased with our service support."
Malcom Murugan is Assistant Manager at the Embedded Technology Centre at NYP.
"We run large classroom size lessons, with a maximum of 24 students per class, in a regular sized classroom which houses quite a fair bit of audio, video, lighting and control systems inventory," said Malcom. "Hence, it was essential to get a compact console that fits into our existing 19-inch flight-cases, while ensuring the console is of a recognised brand name that the students will likely encounter when they go out into the industry. The Quartz is a console that meets these needs."
Murugan oversees the students' learning as they study lighting control and programming. As part of the course, NYP runs a lighting competition where students program a lighting show, express their creativity and in the process become much more familiar and comfortable with lighting programming. The department also supports on campus events, often supplying lighting systems with Quartz as the control desk.
"The introduction of the Quartz has generated more enthusiasm and interest – the students were familiar with the software from using Titan 1 so they were immediately comfortable with Quartz," Malcom continued. "Furthermore, with the additional controls such as the jog dials and quick access buttons, students are able to work more effectively and efficiently. And due to the fact that a key focus of the AVSD programme is system design, the features and support such as ARTNET, Timecode and Redundancy Mode setup on the Quartz enables us to give students exposure to technologies and configurations beyond the traditional DMX based setup."