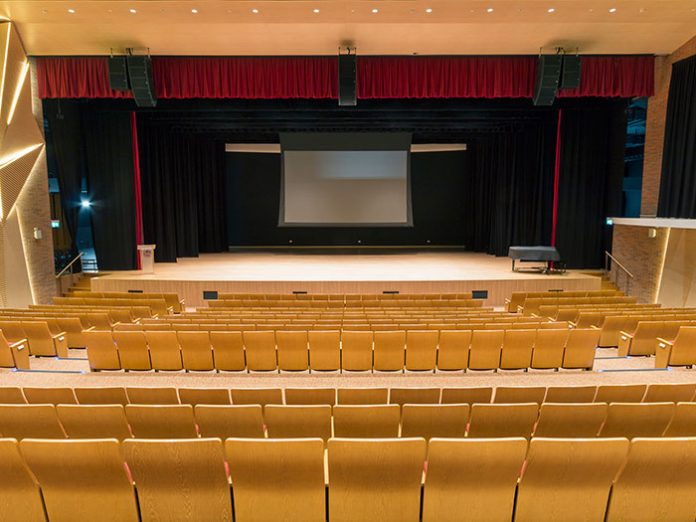 Education standards in Singapore rank among the highest in the world, and the facilities to be found in Singaporean schools are suitably impressive. The most recent example can be found within the state-of-the-art senior school campus at Dulwich College (Singapore), where an impressive 700 seat auditorium is now available for students to use. Providing equally state-of-the-art sound reinforcement is an audio installation based on Renkus-Heinz's VARIAi modular installation array.
Not to be confused with the London-based school of the same name, Dulwich College (Singapore) opened in 2014 in the Bukit Batok region of the city. It is the seventh international school to bear the name, following other locations in Asia including Shanghai, Beijing, and Seoul.
The auditorium is located within the school's new performing arts center. Boasting a façade inspired by the Barry Building in London, the facility occupies some 301,390 square feet and incorporates two black box theaters, a library, a gymnasium, a dance studio and more. At its heart is the auditorium, with an AV design courtesy of CCW Consultants, which was then made a reality by leading systems integrator Electro-Acoustics Systems Pte Ltd (EAS). The theater's shape provided a particular challenge for the design of the sound reinforcement system.  
"The auditorium is a dual-level theater consisting of a wide stage and a short front-to-rear audience area, so the flexibility of the VARIA system was the key to providing the desired results," explains EAS Senior Systems Engineer Chua Cong Wei.
The full system is based on an L-C-R configuration of three line array hangs, each comprising five VARIAi VAX101 10-inch line array modules. "VARIAi gave us the modular options of three different cabinet angles, so we were able to create long, middle and short throw combinations all in a single configurable array," Chua continues. "This was accomplished by having three 7-degree boxes on the top, followed by a 15-degree and a 22.5-degree box below – a variation of waveguides for targeted horizontal coverage. As a result, the VARIAi array switches from 90-degrees (top) to 120-degrees (bottom), so we can optimize sound coverage in every corner of the venue". 
Low frequency support is delivered courtesy of two flown VAX115Si dual 15-inch subwoofers. Moving deeper into the audience area, four wall-mounted TRX121 12-inch enclosures, located two per-side, provide side fill coverage. Finally, performers are served by four Renkus Heinz CFX1121M monitors.
"Complete coverage from the stall to the upper balcony level is achieved with only five cabinets per array," adds Chua. "For this venue, the VARIAi triumphs over a traditional line array, both sonically and visually".