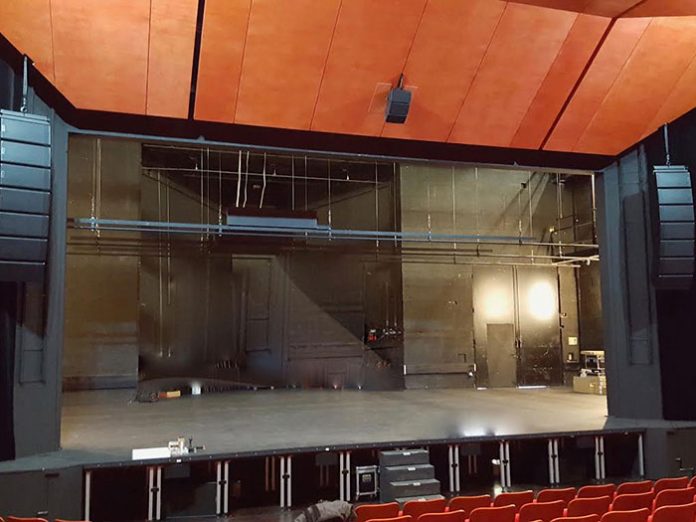 In the heart of the city of Meyrin, close to Geneva airport, the Forum de Meyrin is an important cultural centre. Its 700-seat theatre has just been refurbished with a new house PA system, featuring NEXO's GEO S12 and GEO M6 compact line arrays. These have been integrated with an existing NEXO audio inventory, that has been built up over 22 years.
Designed by Frédéric Walder in conjunction with Jose Bouzard, the new fixed system meets the varied demands of this busy venue, be they theatre, dance, music or opera. Walder's company ZAP Audio has been working with the Forum de Meyrin since it opened in 1994, supplying the first sound reinforcement products (NEXO PS Series, LS Series subs), and then expanding and upgrading the PA specification in 2002.
In 2014, the Forum took the decision to install a line array system. A 3-way system audition took place, comparing systems from a well-known American and a German manufacturer with NEXO's GEO S12/RS18 line array. The decisive factor was the shallow profile of the S12 cabinets, which offered the best sightlines, allowing 10-20 more seats to be sold.
"A level of 105dBA was specified, with a homogenous distribution of sound throughout the stalls and gallery in the auditorium," explains ZAP Audio's Frédéric Walder. "However, the room is very large relative to the stage frame, so we had to find a way to offer consistent distribution of sound energy without the system having too much visual impact. NEXO GEO S12 matched the room perfectly, both in physical dimensions and audio performance".
With NEXO's new GEO M6 line array product coming to market during the specification process, ZAP Audio was able to include the compact cabinets for frontfills, and a centre cluster for the main PA, which used L/R hangs of 7x GEO S12 cabinets, running in active mode, and 2x RS18 sub-bass units. The Forum's inventory of PS15 and PS10 loudspeakers were re-deployed as stage monitors.
"This is the third system upgrade for the Forum in 22 years, and each time they keep elements and re-purpose them in the new system. The PS Series cabinets are so versatile that this is an easy job, and they have stayed current since 1994″.
ZAP Audio is expert at designing and installing networked audio systems, and the Forum uses a Dante network to manage its NEXO amplifiers, loudspeakers and Yamaha PM1D console. The NEXO NXAMP4x4 and 4×1 amplifiers have been fitted with NXDT104 Dante cards, with switching provided by a Luminex GigiCore.