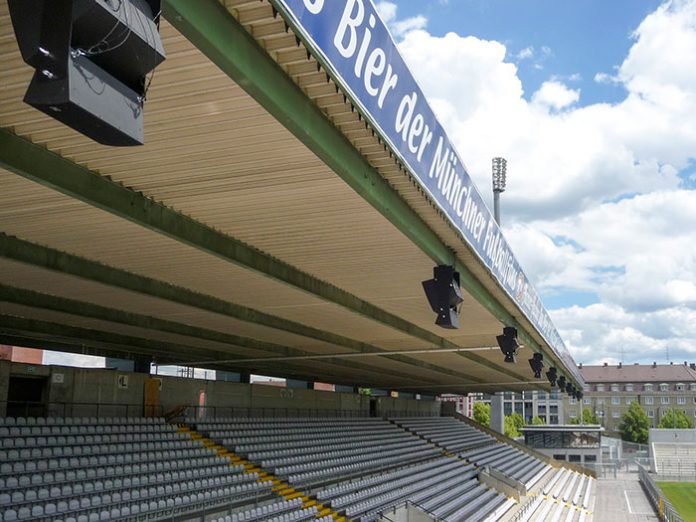 Built in 1911 and former home ground to local football teams 1860 Munich and Bayern Munich, the multi-purpose Grünwald Stadium is a local landmark. Today, it is home to the men's 1860 Munich II and women's Bayern Munich squads. To bring the facility into compliance with the German Football Association (DFB) safety rules for electroacoustic emergency warning systems, the city of Munich recently invested in an upgraded sound system. The equipment chosen for the task included Dynacord electronics and Electro-Voice loudspeakers.
In the planning phase, specialised retail partner ELA-Technik Karl Wagner worked with the Electro-Voice and Electro-Voice support team in Straubing, Germany, on system design using computer simulations to determine the optimum loudspeakers and positioning to cover the 21,272-seat stadium.
The job presented numerous challenges. With only four feasible locations for central electronics, long cabling distances would be required. In addition, only the existing structure could be used for loudspeaker locations. The team quickly decided on a 100V loudspeaker system from Electro-Voice, with all control rooms networked together via a Dynacord Promatrix 8000 system using a redundant fiber optic topology to ensure failsafe operation.
The physical installation was performed by Munich-based MTG – Kommunikations-Technik. Each of the four control centers houses a Dynacord DPM-8016 digital matrix controller along with one unit acting as a master to the three sub-centers. The control rooms also house the system's Dynacord Promatrix DPA amplifiers, which are outfitted with emergency power supplies to ensure total system reliability.
The new security master control room houses police/fire department personnel during stadium events. A Dynacord DPC 8015 paging console is located in the room, allowing live announcement and also programmed with multiple presets to handle any public safety situations that might arise during an event.
All primary loudspeakers around the stadium are horn-loaded Electro-Voice EVH-1152D models. For the main north and south grandstands, they are paired with EVF-1122S front-loaded loudspeakers from Electro-Voice, mounted together beneath the roof to cover the lower seats in accordance with the computer model. In the open seating areas of the east and west stands, strategically spaced EVH-1152D loudspeakers with weatherproof fiberglass enclosures provide full coverage.
To meet the technical requirements of the installation, all Electro-Voice speakers throughout the facility are outfitted with Electro-Voice TK-150 transformers, converting them to high impedance for use in the 100V environment of Grünwald Stadium. This system design enables the long cable runs (up to 150 meters) required to reach the control room locations, using a pair of 10 mm2 loudspeaker cables.
With its fully redundant fiber optic digital network controlled and supervised via IRIS-Net software and emergency power supplies for the system's Dynacord power amplifiers, the new system is virtually failure-proof. With superb Electro-Voice sound quality and reliable emergency communications electronics by Dynacord, Grünwald Stadium is an outstanding example of two notable professional sound brands working together to bring the latest technologies into a traditional public venue.