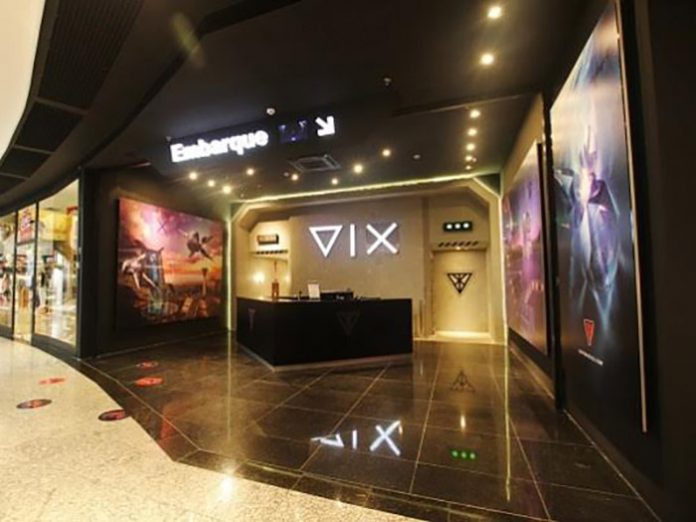 Let your senses take you away into an underwater world untouched by humans during Sensorama's newest ride attraction: VIX. Created as a virtual reality experience, blending magic and fantasy, the 24-person ride takes guests on a below-the-surface voyage, accelerating through narrow land passages, forbidden forests and deep ocean caverns.
Located in the Brazilian mall, Shopping Praia Da Costa, the ride is surrounded by restaurants, retail stores, and public spaces. Due to its crowded and unconventional environment, sound isolation is important so as not to disturb patrons not taking part in the ride.
As immersion rides gain popularity across the world, creators and management teams are finding ways to bring them to life in areas outside of amusement parks, catering to a new breed of thrill-seekers.
The $4 million VIX project required 100 tons of steel, 3km of cabling, a custom engineered building, and a 172sq metres compound curved screen, equivalent to the size of an IMAX theatre.
The simulation experience was created with a planned infrastructure, one capable of enhancing guest experience with heightened senses, movement, and a larger-than-life screen.
Using blended 4K ultra high resolution projectors, a panoramic immersive screen was custom designed for VIX. The 6K uncompressed video, 18.3 3D audio system, special effects, and synchronized six-axis motion platform movements work together to engage all the senses.
By integrating sensory stimulants into the show, riders can feel their hair blow in the wind, smell the forest as they travel through untouched land, and feel the mist as they dive underwater. Special effects including heat, lighting, and wind add to the experience.
"The most interesting part is that all the technology disappears when you go into the ride and  it's  easy, simple and beautiful," said Leif Percifield, the project's Head Engineer.  "You don't care how many wires, projectors and computers are involved because it's awesome."
The entire show and preshow is controlled by Medialon Manager V6 show control software on a Medialon Show Control Machine Pro. A secondary computer stands by as a redundant backup in case of any issues with the main show controller.
Medialon Manager V6 is a Windows based control software well known for its use in museum media control, theme park attractions, as well as architectural video and lighting control. With the ability to control any audiovisual equipment using a range of protocols or network connections, the software-based show control solution fits perfectly with already present IT technology, controlling audio, video playback, operator controls, and media management in one place.
"I love the flexibility of Medialon products," said Michael Sauder, Programmer of VIX. "As I worked on the project, additional special effects were added, and Medialon's show control software had no problem adapting to the new additions."