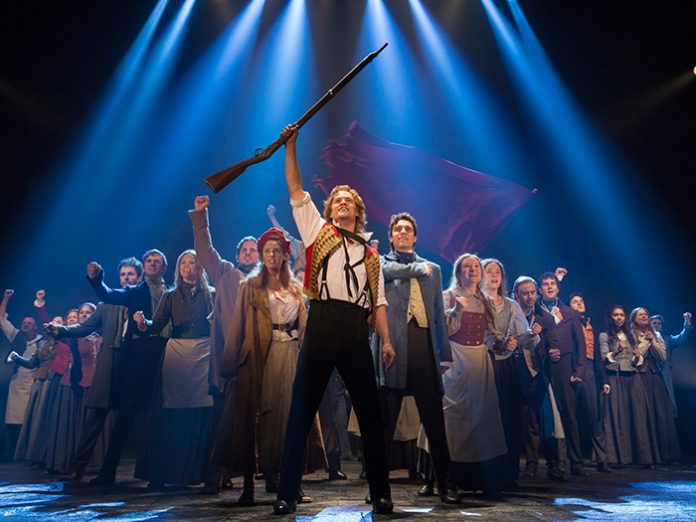 One of the most anticipated shows to grace the Middle East this year, Les Misérables lived up to the hype and enthralled audiences through its three week-long run at the equally impressive Dubai Opera. While no detail was spared by the costume, lighting and effects departments, as a musical extravaganza, it was the audio that held the spotlight with a host of Sennheiser systems ensuring the success of the show.
Commenting on the production's decision to tour with an extensive kit of Sennheiser microphones, headsets, transmitters, and antennas instead of using the incumbent audio solution at Dubai Opera, Shelly Lee, Associate Sound Designer for Les Miserables said, "Musicals of this calibre would tour with the majority of the equipment required for the show.  This includes the Sennheiser radio mics which have for many years been an industry standard in Musical Theatre across the world.  They are chosen by Sound Designers internationally due to their high quality, consistency and reliability both sonically and technically.  We travel with our own Sound System including a large quantity of Sennheiser radio mics as our set up time is very tight and we need to be able to plug-in and go."
Performers were equipped with compact SK 5212-II bodypack transmitters designed to be comfortable to wear and inconspicuous, so as not to undermine the meticulous detail paid to costume design. These were linked to 20 Sennheiser EM 3732-II series receivers characterised by high transmission reliability, exceptional audio quality and simple operation. Further, a wide range of Sennheiser transmitters, receivers, antenna distribution systems and headsets were used for percussion, communications and other background operations vital to the show.
In addition to exceptional audio quality, ease of installation was a key criterion for System Sound. As a long standing Sennheiser customer, the company has utilised the systems in performances across the globe. "Our Les Mis sound team, which includes a Production Engineer, Head Operator and Radio Mic Technicians, is very experienced and has used Sennheiser equipment for many years. Back at System Sound in Australia, which supplied all the sound equipment for Les Misérables, we have an RF service technician who services and maintains all our RF equipment so it is always in good working order," said Lee.
One of the key concerns for any production involving such extensive use of wireless microphones is RF interference and intermodulation. To overcome this, System Sound used Sennheiser's Wireless Systems Manager (WSM) software to remotely monitor the radio microphones, update labelling, and reprogram the receivers as needed.  During each performance, the team had a dedicated radio microphone technician monitoring the RF and audio quality of each microphone.