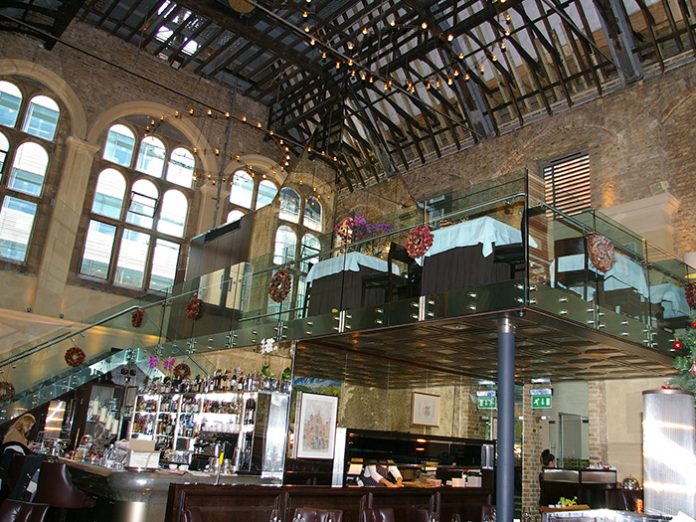 Elliot Patterson has carried out several sound system installations at Galvin Brothers' high-class restaurants over the years using JBL solutions — but the first with his new company, Evolve Install, will have been among the most challenging.
Set in the Spitalfields development area of East London, Galvin La Chapelle occupies the landmark Grade II-listed, late Victorian St. Botolph Hall — a former chapel and school.
While much of the grandeur of the building has been preserved in the fine dining restaurant at the rear, a major upgrade of the former Café a Vin (converting it into Galvin HOP) created fresh challenges for the sound team. This area combines a lounge with 'Pub-de- luxe', outdoor summer dining venue and a 'food to go' section specialising in hot dogs.
After six years of trading here Chris and Jeff Galvin had decided a potent sound system would give the complex greater versatility, having seen a similar solution on a trip to the United States.
Recommended to the project by West End nightclub clients, Elliot Patterson and his partner Robert Stemson had been based at RockIt Event Production at the time, but left to set up the new installation operation, enabling RockIt to focus on its core event business.
In order to provide an audio solution delivering clarity and performance within the reverberant dining space, whilst maintaining the integrity and grandeur of the building, with preserved granite pillars, exposed brickwork, wooden beams and limestone plastered walls, Patterson consulted the application team at Sound Technology Ltd, the HARMAN Pro distributors for the UK and Ireland.
Having considered the brief, application engineer Ben Todd recommended the JBL CBT 70J constant beamwidth speakers, with CBT 70JE low frequency extenders. A site demo convinced the client of both performance and suitability. Patterson sensitively had the speakers colour matched to blend discreetly into the sandstone coloured background and preserve the aesthetic.
The main dining room has been divided into four zones. At the far end of the classic dining hall, either side of a giant clock, are a left and right pair of these speakers, while three single CBT70J line source speakers provide coverage further back, and to the stair leading up to gallery. Up on the gallery dining area itself Patterson has turned to the smaller JBL AC15 — the same speaker that has also been concealed under the downstairs arches.
Explained the installer, "The CBTs were suggested because they are not only high powered and slim but also very directional. We had to be spot on with the colour match."
The choice has proven a big success on many levels. Apart from the enormous headroom in the system, inherent problems of reflected sound in a cavernous building such as this, complete with hard surfaces, suddenly vanish. "As customers walk into each zone the sound imagery appears to be focused directly on them," he said.
Within JBL's extensive catalogue he has also found a role for the Control 50 subwoofers, which are recessed under the seating, along with tiny Control 52 satellites, mounted high up in the glazed middle gastro-restaurant where a warm sound was required. An additional JBL ASB6115 subwoofer is also available to augment the LF when there is a party booking. The result is serious club-like performance when needed and a smooth sounding, discreet and sophisticated system during the day.
Meanwhile in the Galvin HOP bar, a similarly discreet, yet party-capable system has been installed. JBL Control 24C ceiling speakers and Control 23 on-wall speakers are combined with a JBL PRX718 18in subwoofer along with a further Control 50. Four JBL 8124 ceiling speakers are also found in the toilets.
Further innovation can be found in the marquee areas where JBL's stylish, curved and weatherised Control CRV and all-new Control 85M mushroom landscape speakers, also for outdoor use, can be found. "We wanted something quirky," explained Patterson
The entire set-up is controlled by Harman's BSS Soundweb BLU-100, 12 in/8 out DSP, and powered by Harman's Crown DCi DriveCore Install amplifiers. A DCi 4|1250N 4-channel amplifier in the dining restaurant is networked to a pair of DCi 8|600N 8-channel amplifiers in Galvin HOP using Harman's proprietary BLU-Link.
"All signals are transferred over just four Cat 5 cables using BLU-Link, which is a far more elegant solution than using lots of analogue multicore," explains Patterson. "It's worked amazingly well."
The system is fed from two computers provided by playlist specialists 8-Track Music, and carefully customer profiled, while additional input capabilities have been provided to route the music anywhere.