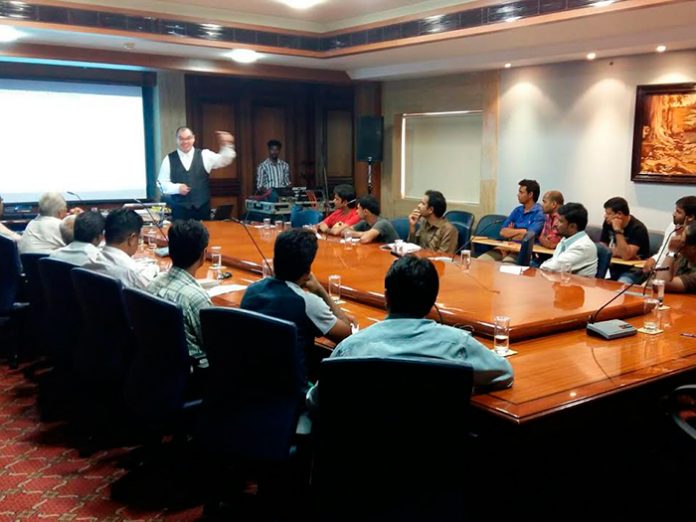 More than 100 broadcasters, sound engineers and audio rental companies attended the day long session in Delhi and Hyderabad. Given the growing importance of wireless microphones, the master class focused on detailed demonstration of the Sennheiser Digital 9000 and Esfera 5.1 Surround Microphone System.
Volker Schmitt discussed educational topics like RF transmission, intermodulation, important RX parameters, difference between analogue and digital, A/B sound comparison Digital 9000 and 5k series system, Advantages of Digital 9000 System and more. To top it all, he gave the best of the audio minds in the country a hands on session with Digital 9000.
The Digital 9000 system has a unique uncompressed digital audio transmission offers artefacts free sound with great dynamics. Sennheiser's innovative Esfera 5.1 surrounds microphone system which elegantly creates immersive surround audio from a single pair of X/Y microphones. The new Digital 9000 has been very successful across the country and is employed in a number of large applications, e.g. Eurovision Song Contest.
The Master classes were set up with the aim to offer Indian audio professionals an opportunity to interact with Sennheiser's one of the most renowned audio expert and understand the nuances of the trade.
Volker Schmitt, Director – Customer Development and Application Engineering at Sennheiser Electronic, said: "As a Sennheiser partner, it has always been my endeavour to ensure that the technology and innovation are highlighted through such master-class workshops. Interactive sessions like these help us understand the needs of today's audio enthusiasts better. I am delighted to see this great response from the workshops in both the cities."
Commenting on the overall success of the workshop, Vipin Pungalia, Director Professional segment at Sennheiser Electronics India, said: "We are really happy to receive a phenomenal response from the audio enthusiasts across the country for our HD Audio Master-class workshops. At Sennheiser training and learning has always been of our foremost importance and thus we try to bring together industry experts from across the globe to share knowledge and expertise. We believe that such workshops not only encourage our ideology of knowledge sharing but also live up to our promise of creating legendary sound equipment."
In Volker's earlier role as Director of the Product Lifecycle Management in the Professional Systems Division, he spearheaded the creation of Sennheiser's most successful and innovative wireless product lines. Over a period of eight years, Volker\s development team designed and introduced the popular evolution wired, evolution wireless, MKH, MKE series and the 3000 & 5000 Series Wireless products.