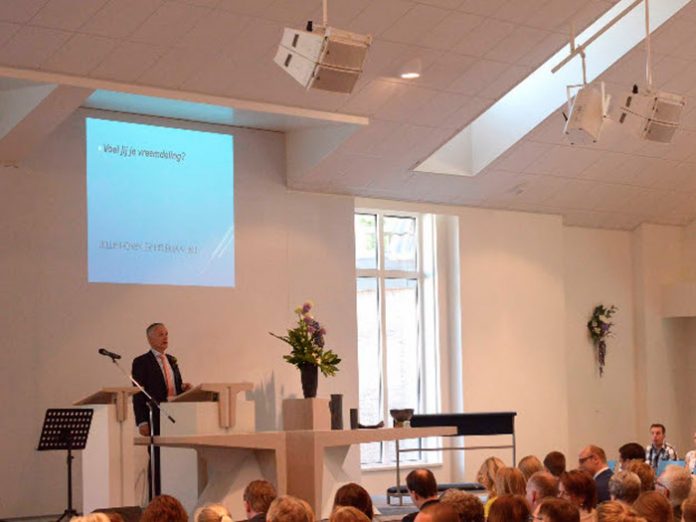 The Maranatha Church, in Zwijndrecht, Holland, has upgraded its sound reinforcement system with the installation of a new Proel Axiom AX2065 compact line array.
Installed by Schaapsound, a specialist church audio visual supplier with strategic locations across the Netherlands at Ridderkerk, Zwolle, and Roermond. The new sound system is used primarily for speech and live music applications to support the church's programme of events.
After a recent renovation of the building, the Maranatha Church decided that a complete upgrade of its audio-visual facilities was also required to do the new construction and expanded church hall justice, and called upon Schaapsound to suggest audio and video solutions that would provide a more rewarding experience for its 600 regular parishioners.
Based on an Ease acoustic simulation Schaapsound put together its audio system proposal designed around AX2065 compact line array elements.
While the building itself had good acoustic properties suitable for sound reinforcement and presented no particular difficulties, the dimensions of the room required some careful study. With the location of the stage and main performance area being along the longest wall of the rectangular hall, the 30m width required loudspeaker clusters with enough horizontal dispersion to adequately cover the audience space from L-R.
The choice was made to position a total of three clusters of two dual 6.5-inch AX2065 line array elements across the front, with two Proel NEOS10PX passive two-way loudspeakers flown close to the L-R hangs as left and right stage out fills. All the flown speakers were finished in white in order to blend in with the decor. Two SW115 15-inch subwoofers were added on the floor for low frequency extension. The complete system is powered by Proel HPX1200 and HPX2800 amplifiers and controlled by a PC-260 DSP controller.
According to Schaapsound's Joost De Visser, the Axiom line array system has an open sound with the ability to deliver a proportionate sound level from the front to back of the hall. "It is more than powerful enough, which reinforces the thinking that a powerful speaker system does not have to be large to deliver. After the first initial services we received many good compliments on what was described as a full and faithful sound, true to the human voice."