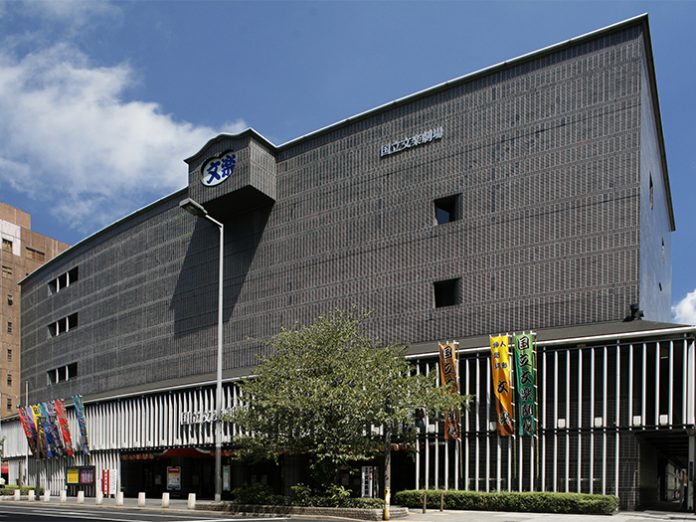 The National Bunraku Theatre in Osaka, Japan, has chosen Riedel Communications' MediorNet real-time network to drive signal transport for the theatre's upgrade to all-digital video operations.
The National Bunraku Theatre is one of six national theatres in Japan and is the country's headquarters for bunraku, a traditional form of the "Ningyō Jōruri Bunraku" puppet theatre that emerged in Osaka at the end of the 16th century. In addition to bunraku, the theatre also stages performances of buyō and other traditional arts, as well as Japanese music concerts and stage plays across two performance halls.
For its new, all-digital industrial television (ITV) system, the National Bunraku Theatre has installed three MediorNet MicroN high-density media distribution network devices and 15 SmartPanel App-driven user interfaces. The MediorNet devices enable agile routing of audio and video signals from eight cameras to various monitors in the control room, the lobby, and the two performance stages. The SmartPanels have been configured with the Riedel MediorNet Control App, which enables the technical and backstage staff to change video sources for each monitor with less latency.
"Distribution delay is the biggest challenge when considering solutions for a digital ITV system. We chose MediorNet because it has infinitely less delay in video distribution and provides reliable, safe, and accurate operation during a live performance," said Hideki Takaoka of the National Bunraku Theatre. "We have been satisfied with MediorNet's low delay and fast response that makes switching sources so seamless the naked eye can't recognize them. In addition, the system is easy to understand and manage, with settings that can be changed using the dedicated application. We look forward to even more features in future versions of MediorNet."
"As our first theater install in Japan, the National Bunraku Theatre is a showpiece example of the power, flexibility, and reliability of our MediorNet technology for real-time signal transport," said Takako Konishi, Japan Sales Manager, Riedel. "Once the theater adds an Artist digital matrix intercom to its MediorNet system, the ITV and the communications systems will be completely integrated and create an even more user-friendly environment. We look forward to working with the theater as it continues to upgrade its technical capabilities and deliver a state-of-the-art performance experience to audiences."