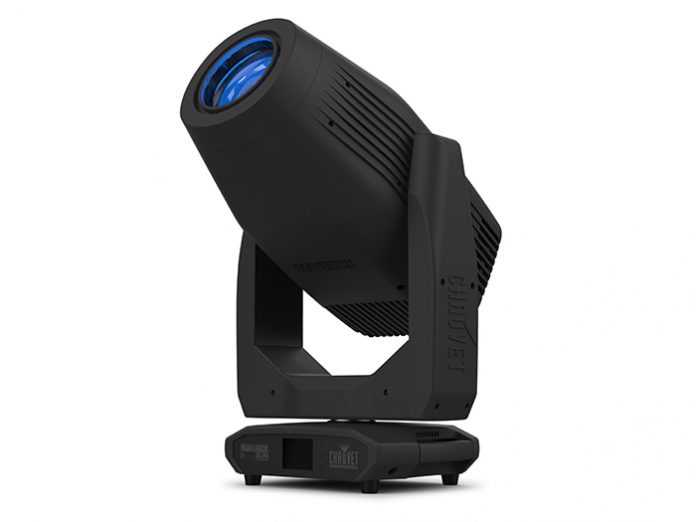 CHAUVET Professional's Maverick Silens 2 Profile will never be noticed because of its sound. The convection cooled LED PCB fixture is virtually silent, attracting no attention to itself in studios for live stream broadcasts, recital halls, theatres or other applications where absolute quietness is essential.  
However, this 560W profile unit will be a standout performer as a lighting source, thanks to features like CMY+CTO color mixing with CRI, R9, CQS, and TLCI all between 91 and 97 (depending on the color temperature mixed).  Other features that speak volumes about this silent powerhouse of a fixture include a four-blade framing shutter system with rotation, a color wheel, animation wheel, a 10:1 zoom, prism, two frosts, static and rotating gobo wheels, and 16-bit dimming with selectable red shift.   
"We are especially proud of this fixture," said Albert Chauvet, CEO of Chauvet. "All of what we've learned through our work with professional LED fixtures over the past 15 years has been poured into the Maverick Silens 2 Profile. Our goal was to create a first-of-its-kind silent LED fixture that not only matched, but surpassed, the performance of the standard profiles that proceeded it in terms of brightness, colour rendering and versatility."
The innovative design of the Maverick Silens 2 Profile features a doughnut shaped ring of white LEDs with an RGB LED in the centre for toning (+/- green for on-camera use) and red-shift in dimming. Offering an impressive level of colour rendering versatility, the fixture can create beautifully rich saturates, while also producing subtle pastels.  Throughout the spectrum, the colours rendered are extremely realistic, as is evidenced by the fixture's pure red tone with no trace of orange.  
Combining high CRI LEDs with precision optics, the Maverick Silens 2 Profile has an output of over 11,000 lumens. With an optimal throw distance of 30-50 feet, the fixture is right at home in a variety of studio and stage applications. In all cases, it delivers smooth and even edge-to-edge coverage. 
Thanks to its advanced engineering, the Maverick Silens 2 Profile offers an unprecedent level of accurate and detailed control in lighting applications. For example, its frost ranges from barely perceptible, all the way up to completely diffuse. Its + or – 60 degrees rotation framing shutter system supports a wide array of framing positions, while its 10:1 zoom covers 5-50 degree beam angles —  and its fully wiping blades can create an assortment of shapes.  
"There's a wide variety of ways that quiet lights are used in various applications," said Albert. "Designers shouldn't have to sacrifice versatility for silence. With the Maverick Silens 2 Profile they don't have to. Now they can have silence and more flexibility than ever."