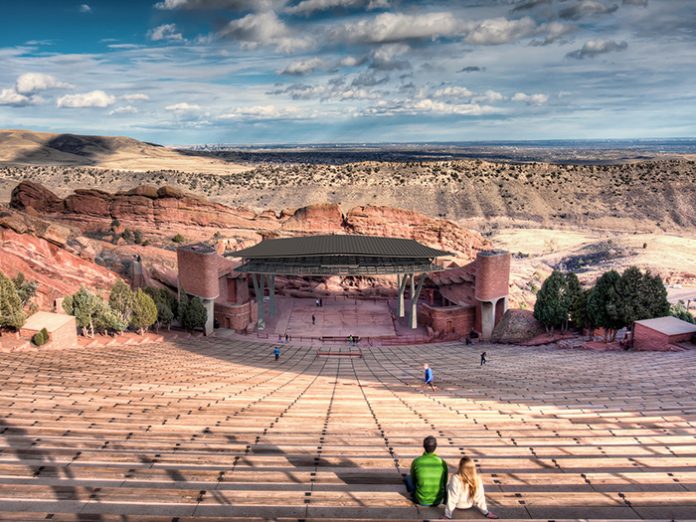 There are very few folks in the entertainment industry who don't know Red Rocks Amphitheatre. A Rolling Stone magazine poll named the venue the 'coolest outdoor amphitheatre in the nation' – and it's easy to understand why. Nestled between two enormous monoliths of rock – Ship Rock to the south and Creation Rock to the north – the iconic venue is the only naturally-occurring, acoustically-perfect amphitheatre in the world.
IA Stage's Founder and President, Mark. T. Black, could barely contain himself when the company was awarded the project. "Are you kidding?" Mark said. "Red Rocks is a bucket list destination! I had seen a show there [years ago] and I remember thinking how cool it would be to see a more robust stage tower with a SkyDeck. And, now, here we are!"
Like the entertainment industry as a whole, Red Rocks was heavily impacted by the pandemic and had to cancel the bulk of its 2020 programming from April through to now. Some events have been rescheduled, of course, but the remainder of 2021 carries a lot of expectations for the historic venue. 2021 not only marks the 110-year anniversary of Red Rocks as a concert venue; it's also the year that the storied venue will unveil a new stage roof.
The renovation of the stage roof is part of the Elevate Denver 10-year bond programme, whose mission is to enhance the city and county of Denver through critical improvements to the infrastructure. Explaining how this programme came to benefit Red Rocks, Tad Bowman, Venue Director, stated it plainly, "The current stage roof was installed in 1988 and it has outlived its life expectancy."
View this post on Instagram
He went on to explain that the original structure wasn't architecturally pleasing and didn't really fit in with the natural aesthetic of Red Rocks. The city and county of Denver selected lead architect, Short Elliott Hendrickson Inc. (SEH) to conduct a feasibility study to determine whether the renovation was possible. Using drone filming and 3D point cloud technology, SEH was able to complete the study and generate accurate digital renderings of the space. GH Phipps Construction was brought on as general contractor, with Kyle Casinelli serving as Project Manager for the renovation.
Tad added: "The functionality [of the roof] could have been better and we were looking to provide more protection from the weather. We wanted the structure to be able to take more weight and we wanted a safer environment for our riggers."
Read the full article in issue 31.3 of MONDO-DR –