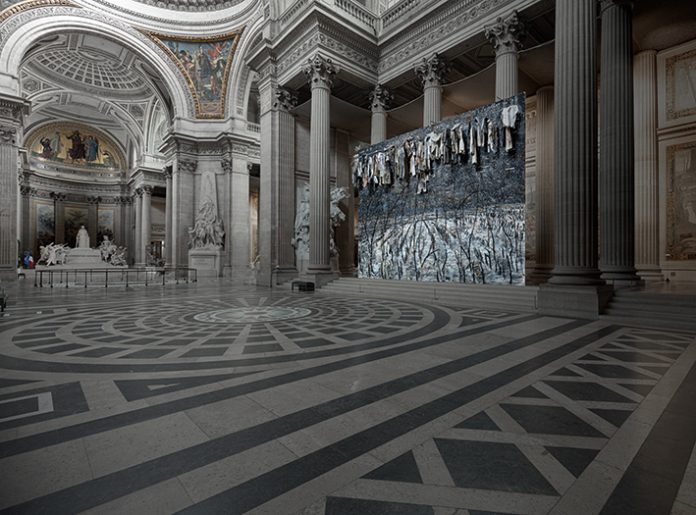 On November 11, 2020, a unique sonic technology, made in France by Amadeus, was revealed as part of a new artistic work at the Panthéon.
Within the scope of the Armistice Day commemorations, French author, Maurice Genevoix, who wrote the tetralogy, Ceux de 14 – 'The Men of 1914' about World War I – joined other luminary writers, such as Voltaire, Rousseau, Dumas, Hugo, and Malraux, along with revered figures from culture, science, and politics in France's secular temple, the Panthéon. For the celebration, the President of the French Republic commissioned a work from two major figures of the contemporary art scene, the German painter and sculptor, Anselm Kiefer, and the French composer, Pascal Dusapin. This is the first public commission for the Panthéon since 1923.
Pascal's creation, In Nomine Lucis, is a piece for a musical ensemble of singers, recorded by the French chamber choir, Accentus, at the Philharmonie de Paris concert hall. To bring a more intimate human connection with the Great War into the Panthéon, nearly 15,000 representative names of soldiers who died for France have also been read and recorded by the French actors Florence Darel and Xavier Gallais. Visitors to the Panthéon will hear names spoken as they walk through different parts of the expansive building.
"I wanted to make the stones of the Pantheon sing, to create a huge 'vocal lung' where everyone will hear different echoes of its past, and of its history," said Pascal.
To support the great new musical work, a bespoke and unique sound system was designed and installed within the Panthéon. A total of 70 loudspeakers, designed and manufactured by French audio company, Amadeus, are mounted around the transepts and at the dome-ground, which reaches more than 35-metres in height. The loudspeaker enclosures, being coated in natural stone, have been made invisible, becoming an integral part of the monument.
Read the full article in issue 31.3 of MONDO-DR –