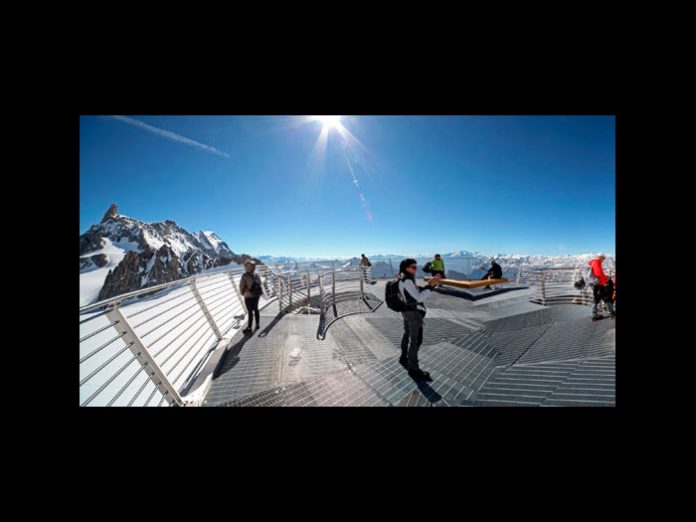 The SkyWay at Mont Blanc has been equipped with an evacuation system manufactured by RCF, and specified by installation company CED Impianti. An RCF DXT 9000 digital system, certified in accordance with the new EN54-16 standard, was used for this engineering masterpiece.
"We already knew the DXT 9000 products," explained the installer Jacopo Franchin. "The central system is powerful, reliable and it conforms to sector regulations. It was a great choice from both the technical and commercial points of view." The installation at Mont Blanc is made up of three independent systems, one for each station, and is divided into separate zones corresponding to fire detection areas.
Three amplified master units were chosen from the MX 9504 series, one for each level of the new SkyWay cable car, while the pre-recorded messages have been made in three languages instead of the more usual two. "In the Aosta Valley French is spoken just as much as Italian and the SkyWay has a great influx of French speakers. For this reason the client also requested French as a language," continued Jacopo. The MX9504 units allow multiple messages to be sent simultaneously in order to manage a well-organised evacuation of the various areas that are open to the public.
The powerful digital amplifiers used are RCF UP 9502 and 9504 models, while the PS 4048 PSU ensures continued power to the DXT 9000 system in case of network interruptions. The system also includes the RCF MS1033 dual sound source, with integrated CD / mp3 player and a radio tuner. Microphones from the RDF BM 9800 series are also used. "Not only did we want a good evacuation system, but one that could also have a broader use for the distribution of music or various types of messages," stated Engineer Petrella from Dimensione Ingenierie, the company that developed this project with RCF technical staff.
Three types of loudspeakers were chosen for their high-quality sound performance, UV and weather-resistance properties – the purpose designed RCF DP1420 EN sound projector, the DU 50EN and HD 21 EN horn speaker.
The final project has been designed to achieve an average SPL more than 10 dB higher than the background noise, and therefore falls within the range established by the regulations. The average STI is higher than 0.5, with slight normal variations, calculated at 627 measurement points, resulting in great sound clarity and speech intelligibility.