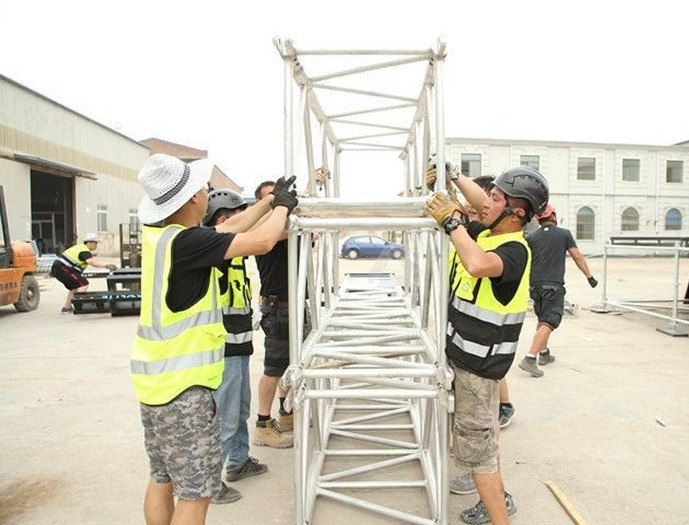 NeuroTech provides comprehensive audiovisual and staging services in China and throughout the Asia-Pacific region to international clients including BMW, Givenchy, and Air France as well as concert tours and travelling productions. Responding to client demands, NeuroTech first contracted with Prolyte in early 2018 to purchase staging systems with high load capacity that could be built in different configurations and would comply with international standards. Prolyte delivered its Mammoth Ground Support System to NeuroTech and the stage system performed flawlessly in April 2018 at a live show for the auto industry.
Based on this initial success, NeuroTech began receiving more staging requests from large European companies for reliable and safe structures with tremendous load capacity. Seeing an opportunity to augment its structural offerings throughout the Asia-Pacific region, NeuroTech increased its commitment and purchased Prolyte's Space Roof system. The Space Roof is a modular roof system based on a space frame structure. The aluminium profiles combine with unique node points to create a roof structure of any desired size or shape. The specially designed top canopy guarantees efficient water drainage and the ballast is an integrated part of the system, creating a reliable, safe and efficient way to add a counterweight to the structure.
The roof can be suspended from standard Prolyte CT towers and can be built up to 37 x 22 meters in size, offered a loading capacity of 30t UDL + 2x 4T PA which was easily installed, which helps meet the needs of touring artists. With reducing the stage opening, the loading capacity can be easily increased up to 50t. The space roof structure can also be easily adapted in size every 2,072-metres in width and depth. With maintaining the structural integrity of the system. In addition, the structure complies to all latest western regulation for temporary demountable structures. "Having a space roof system available in the Asian market will give a new mindset and new opportunities for producers and organisers of Asian events," said Ruud de Deugd, Product Manager at Prolyte.
The Space Roof is the only structure of its kind available in the Asian market. When NeuroTech purchased the Space Roof structure, Prolyte supplied all of the parts and components, lifting and control equipment, continuous engineering support and customer service in their language. In addition to this, a vital part of Prolyte's services includes build-up training to ensure the safety of workers and the accuracy of the construction. For NeuroTech's Space Roof, the safety training and test build structure was assembled in Tianjin, China. Working with engineers from Prolyte, Neurotech's large, experienced crew had the roof structure up in 24 hours and incident free.
Until this time, there was no such structure in the Asian market. The requested structure needed quite a few adaptations to fulfil the needs of the show. Pre-rigs, extra steel beams, and extensions were used on the space roof and allowed for 1m square rigging points, which saved time during the rigging of the show allowing the full extended roof to be installed in two days, including stage and ballast. Lambert Bouwmeester, Prolyte Group, CEO stated: "Prolyte is convinced the Chinese market is getting ready for Prolyte's quality products."