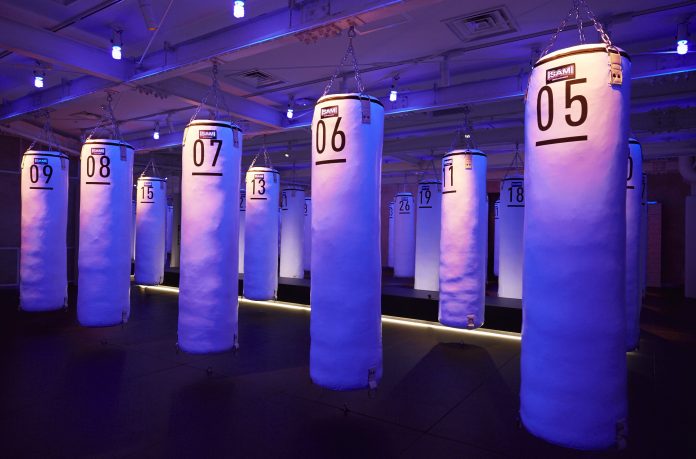 Located in the Aoyama district of Tokyo, 'b-monster' is a completely new form of workout that combines nightclub dancing with full-scale boxing fitness training while at the same time promoting fun.
The 'fitness after dark' concept was born in New York and has now been adopted in Japan. One of the most fashionable new brands in the luxury area of Tokyo, it is driven by Powersoft amplifiers, provided by the company's Japanese distributor, Audiobrains.
After the opening of the first gym in the Ginza area, the latest b-monster has set out to capture the atmospheric excitement and high powered sound quality "without compromise", in order to emulate a nightclub environment.
The entire Martin Audio CDD speaker series is Powersoft driven. Three M50Q HDSP+ETH control 12 of the full-range enclosures, while a single Powersoft X4 DSP+D pilots the four CSX118 subs. "This injects both high-fidelity and enormous output energy into the system," confirms Audiobrains' Shin Yamada.
"The fact that all the Powersoft products are designed for 1U rack space means that in total we require no more than a 4U rack to drive 16 speakers — creating an exciting full range sound without power loss. On top of that, DSP versions of all the Powersoft units have been chosen, which means the sound engineer can control and monitor the system through Armonía software. This means the amps can drive the speakers safely and the sound can be fully optimised.
"In fact the sound quality is way superior to any other gym, and b-monster has been receiving great feedback already."
States Mr Hiro, Program Director of b-monster: "The experience is just like being in a night club, surrounded by great SPL and low frequency. The voice over the head-set microphone can be delivered to all those working out, clearly and without any of the feedback which is generally experienced in gyms.
"I was very surprised because not only are fitness fans getting a work out but instructors too are feeling the excitement of this great sound experience."
Particularly during 'Interval' work (high intensity training) he says every corner of the studio is covered in consistence sound. "This is one of the most remarkable aspects of this sound system."
Mr, Dobashi, director of ENTER SANDMAN LTD., who designed the sound system, added: Before deciding which sound system was best for b-monster I tested several manufacturers' products with the goal of seeing which would deliver consistent acoustic sound over a long period without fatigue, and also to create a real club sound environment with thick low bass beat.
"Only Powersoft amplifiers had that ability, with an impressive saving of rack space — in this case just 4U. I am used to it being at least double the size, or if it is a 2-channal amplifier it would occupy up to 16U rack space."
And this did not only apply to space saving. "The reduction in total current consumption was also of paramount importance for the owners," he continued. "In particular with the X4 DSP+D, I constructed the mains voltage up to 200V to make driving low-end frequency as tight and thick as possible."
The fact the entire sound system is controlled by Armonía provides further peace of mind, he says. "Considering that b-monster has 24 hours operation it is a huge advantage to be able to set accurate limiter functions for safety. In fact after installation I decided to apply some sound adjustments and Armonía helped me to complete the set up really quickly within a limited time. The ability to prepare and lock in several presets, and switch between them on a case by case basis, has an amazing effect on the entire sound environment."