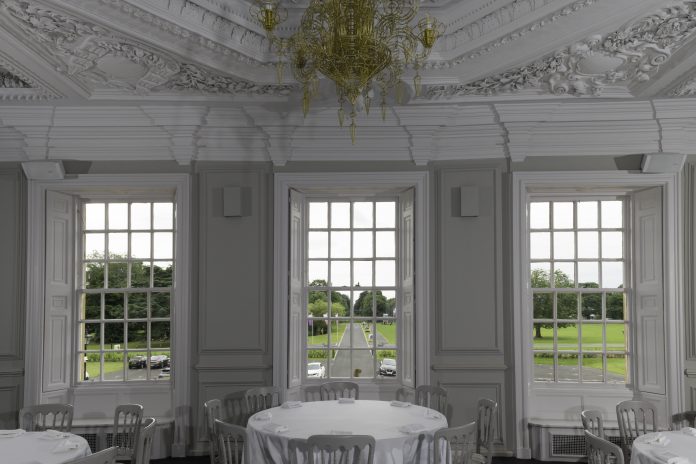 Acklam Hall in Middlesbrough is a Grade One listed building with a fascinating history.   Built in the 1680s, it was the home of the Hustler family for two hundred years, before becoming a boys' school in the 1930s, and has only recently been restored to its former glory to become a luxury restaurant, conference centre and wedding venue. When it was decided to introduce audio into all the public areas, the venue approached Bose Pro Partner, Riverside Leisure Promotions to design and install a high quality background and foreground sound system for conferencing, weddings and fine dining. A huge consideration was how to ensure the system remained discreet with virtually no visible wiring.
Care had to be taken not to damage any of the original structure, and speaker cabling had to be fed behind original studded walls, with speakers placed discreetly yet positioned to deliver a clear warm sound with even coverage throughout the rooms.
The two restaurants and two private dining rooms all benefit from a Bose FreeSpace® 3 system, including small cube satellite speakers and concealed bass, whilst the main conferencing/wedding room has four white FreeSpace DS100SE loudspeakers, with a smaller FreeSpace DS16SE for infill in the bar area. The result is a system that delivers sound quality and even coverage to every area, so everyone can hear what is being said during a wedding or conference, wherever they are sitting or standing.
There is an auxiliary music input for use in conferencing and for weddings, as well as radio and gooseneck microphones in the main room, and the central amplifier control delivers background music to all areas including the reception area and wash rooms.
Acklam Hall Director, Martin Williams, is delighted with the outcome. "We are very impressed with the results that Riverside Leisure delivered for us on this challenging project. The installation is very neat and tidy with all wiring hidden to our satisfaction. We look forward to working with Riverside on any future projects that we may have!"