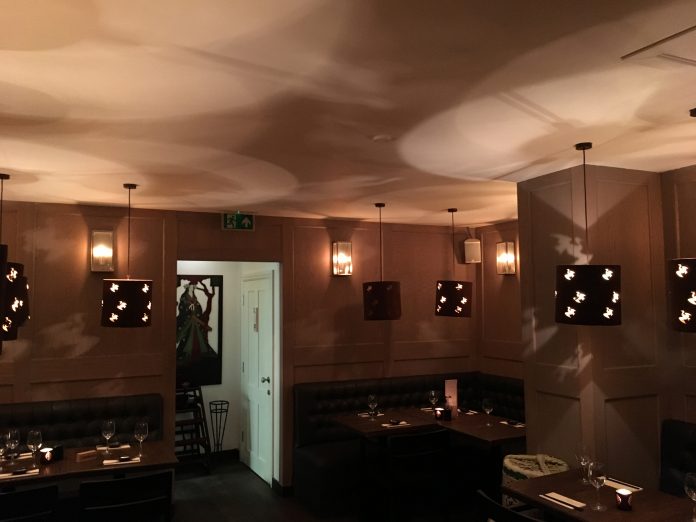 In the heart of London's trendy Portobello Road the UKAI sushi house has recently undergone a complete makeover with a new Martin Audio CDD sound system provided by Old Barn Audio (OBA).
Immersed within the sophisticated and stylish decor is not only a superior Japanese kitchen, but a real eclectic mix of music which OBA has ensured will be heard with maximum clarity and separation.
UKAI owner, Amir Moaven, was also convinced after being recommended to OBA by a Portuguese restaurateur (and mutual acquaintance) — for whom the installers had provided a Martin Audio system some 18 months previously. "He was clear that he wanted high quality background music," reports OBA director, Neil Kavanagh.
The space is divided around a U-shaped room, with a restaurant and separate chill-out lounge.
In the main bar are a pair of Martin Audio's CDD10 (housing their new Coaxial Differential Dispersion technology) and a white CSX112 (single 12") sub, which blends with the white Yamaha upright piano. Providing coverage in the restaurant meanwhile are three of the smaller CDD5 (5") speakers. Finally, CDD6 (6") cover the chill-out lounge.
Neil Kavanagh stated that "the challenge had been to mount the speakers as high as possible above the floor in order to angle them correctly and direct the energy where it was needed."
"Fortunately the Martin Audio mounting hardware is versatile, and although it places quite a bit of torque on the bracket it is more than capable of handling it, and forms a perfect solution," he said.
"The difference in sound quality is immeasurable compared with what they had previously. Once we had tuned the system it sounded tremendous."
Six separate inputs can be routed to any of the four areas via the zoner, with playlists stored on computer and the programme ranging from hip-hop to soul and Latino. The versatility of the in-house system enables the venue to transcend effortlessly into a nightspot when market trading has finished outside.
Commenting on OBA's work, and the impact of the sound system, Mr. Moaven said, "It is the most shrewd investment I have ever made in this business. The sound is so superior that in the words of one of the employees 'it makes you look forward to coming to work'."