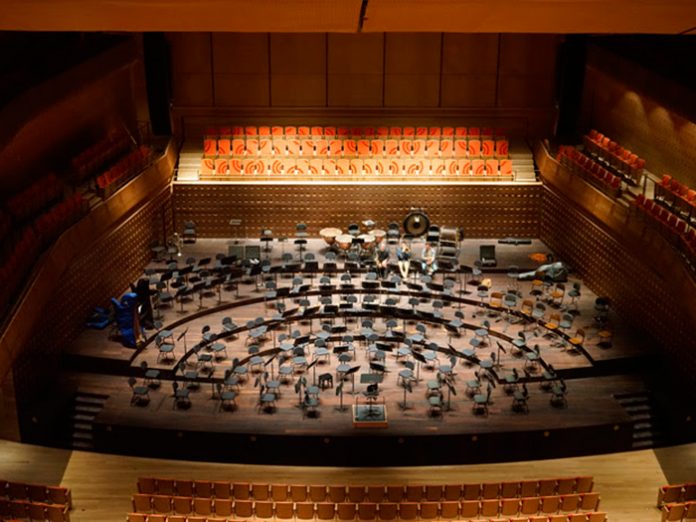 Antwerp's Queen Elisabeth Hall and Congress Centre has been undergoing a major two-phase transformation which was first hatched back in 2009.
The City's desire to create a modern multifunctional concert venue incorporating a spacious congress facility brought with it the requirement for an expertly engineered sound system – and this was entrusted to FACE, the Powersoft Belgian distributors.
The new look is a far cry from the original building, owned by the Royal Zoological Society of Antwerp (KMDA) which dates back to 1890. Demolished after the Second World War, it was rebuilt again in 1960.
Plans to refurbish the existing building were scratched in favour of a total rebuild, which was budgeted in the region of €85m. Today the 25,000sq. metre facility hosts the 2,020-seat Queen Elisabeth Hall, accommodating the Royal Flemish Philharmonic Orchestra, the expansion of the Congress Centre and integration of the new building in the 'Historical Wing'. Linking it all together is the spacious and airy Atrium Hall, which also provides the main access to the building.
The multi-functionality will see it host concerts and congresses but also classical music combined with theatre and dance and pop-rock concerts – cleverly designed technologically for fast turn-over between the different events.
FACE joined a team in 2013 that included Ian Simpson Architects, acoustic consultants Kierkegaard Associates, Bureau Bouwtechniek architects, and theatre consultants Charcoalblue. The technical specialists were brought in by the main technical contractor Putnam to install the audiovisual system, lighting and cabling.
As the new venue was designed to become Europe's most 'silent' concert facility, acoustically optimized by Kierkegaard, choice of the speaker system was critical as Steven Kemland explained.
"It had to be non-powered," he confirmed, "self-powered active speakers, lighting or switches with fans were not an option, either in the main venue or surrounding rooms." They chose a FOH combination of Renkus-Heinz VARIAi flown array clusters to achieve optimal coverage.
With the stage tailor-made for the Philharmonic, and divided in three moving stage elements, FACE had to install 26 customised versions of the RH CFX41 stairstep speakers in the three rows, following throughout the EASE model and simulations for the optimum placement of speakers.
On the stage RACE have turned to Martin Audio for monitoring – with all main speaker and monitor sets powered by three Powersoft X8 and three X4 from the new flagship series, while an Ottcanali amplifier, featuring a switching device designed by FACE, serve the front fill speakers – with all amplifiers carrying Dante onboard.
Processed by the Powersoft Armonía software, with internal DSP and Matrix onboard, this amplifier platform allowed the integration of a very complex set-up to be operated with an extremely user-friendly interface.
In addition to the FOH system FACE also installed a discreet speech system to be used with the FOH front-fill and delay speakers. The venue is also equipped with an Ampetronic hearing loop system, split into five independent zones.
A Dante network controls and links up the whole audio configuration for both the main system and external zones via a MediaMatrix NION platform. "The fact that all the components we selected have Dante onboard allows full and swift control over the system," concludes Kemland. "This project was both an honour and a challenge for myself, my project manager Stijn Vermeiren and entire installation team, who were on site for more than six months. It is one of the most complex infrastructures we have in Belgium."