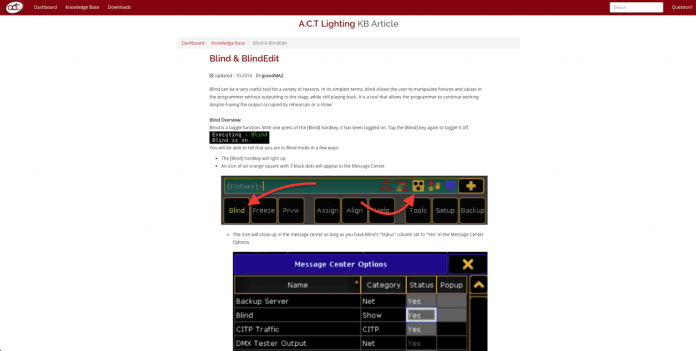 A.C.T. Lighting, has redesigned the customer Support Hub on the company's website creating a single, centralised resource for all online support needs.  
With a reputation for extremely responsive one-on-one customer support, A.C.T. Lighting has tailored the Support Hub to offer strong customer support online.  
"Our new Support Hub is better organized, has a cleaner layout than our previous support page and is now searchable," said Will Murphy, Director of Software Support and Development at A.C.T. Lighting.  "The Support Hub is the central point for learning about our products and how they work.  It's easy to navigate there from our home page, and quick and easy to use once you get there."
One click on the Support tab on the home page takes customers to the Support Hub.  Four buttons across the top of the Support Hub provide navigation to the Knowledge Base, A.C.T. YouTube Channel, Classes, and Subscribe options.
Knowledge Base offers an extensive array of product bulletins for customers to review.  Categories currently include grandMA2 software, grandMA2 hardware, MA Lighting's dot2 console, and Claypaky lighting fixtures.  
YouTube takes customers to A.C.T Lighting's YouTube channel and its video resources.  The biggest playlist offers recordings of A.C.T.'s Tech Talks webinars, which currently focus on MA Lighting products.  Tutorials and videos for other products are also available.
Classes is a separate tab with links to sign-up for courses at one of A.C.T. Lighting's three offices or on-site at the customer's location. Continued learning resources can also be found there.
Subscribe makes it easy to join the support teams' mailing lists. Customers enter their preferences for products and services and receive software and firmware updates, notification of new bulletins and videos posted on the Support Hub, and the availability of new webinars.
Additionally, the Support Hub links customers to useful forms and applications.  The Warranty section outlines warranty terms offered by A.C.T. Lighting and the manufacturers it represents.
Initial customer feedback about the Support Hub has been very positive.  "They like having so much information that's searchable and all in one place," noted Will.
Lighting Designer Michael Sharon, who heads Light Touch Designs in Los Angeles, is pleased with the personal support he gets from A.C.T. Lighting and with the new Support Hub he now has at his fingertips.  Sharon owns a full complement of MA Lighting consoles.
"A.C.T. Lighting goes out of its way to give great technical support and share their knowledge," he says.  "The grandMA2 is a complex console that requires mentoring and support.  A.C.T. does a great job of explaining new features, documenting best practices and answering questions.
"The redesigned Support Hub looks fantastic.  It's so well organized with all the information I need right there: tutorials, articles, fantastic webinars," Sharon adds.  "A.C.T. helps relieve the frustrations of working in incredibly complex show situations."