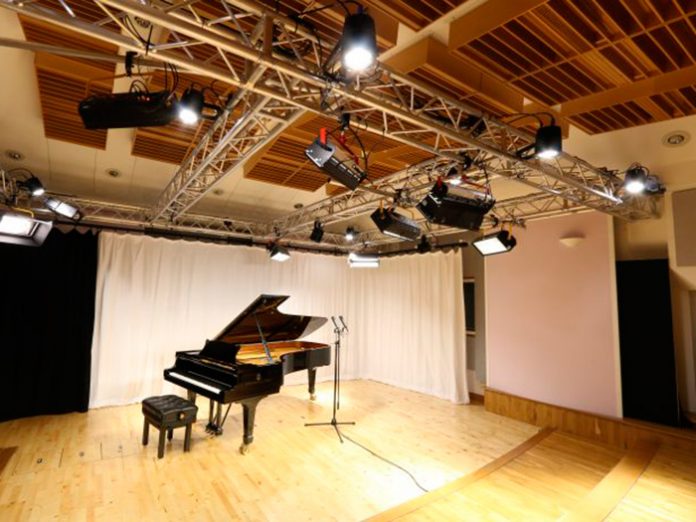 A.C. Special Projects Ltd. (AC-SP) has specified, supplied, installed and programmed a versatile colour-changing performance and house lighting system for the Belle Shenkman Studio at the prestigious Royal College of Music (RCM), London, UK.
The RCM is one of the world's great conservatoires, training gifted musicians from more than 60 countries for international careers as performers, conductors and composers. Situated in South Kensington, the RCM's teaching and performance facilities are amongst the highest technical standards in the country for musicians studying at undergraduate, masters or doctoral level.
The project brief for AC-SP was to provide a multi-purpose lighting solution for the RCM's Belle Shenkman Studio, which is used by students to make video recordings of musical performances for their portfolios.
Up until now the college had been using portable lighting for student performances in the studio, but it wanted to upgrade to a fixed installation in order to save on setup time, as well as adding optional coloured lighting for filming performances. In addition, the lighting needed to be ultra-quiet in operation, so it wouldn't add any noise to video performances recorded in the studio.
Separate from the performance lighting, RCM also wanted to upgrade the studio's existing house lighting fixtures to newer technology, whilst retaining other existing lighting used for photography in the room. The mounting solution also needed to provide the ability to easily move the position of the fixtures, along with a very user-friendly control system which the students themselves could operate, and which allowed for easy switching between the various fixtures or using different combinations.
Aside from the lighting, RCM wanted a curtain track system to blackout areas of the studio and provide a white background for the video recordings.
AC-SP specified Chroma-Q Colour One 100™ RGBA LED PAR fixtures to provide high quality coloured lighting during the video recordings. The premium performance unit features convection cooling for very quiet operation, making it ideal for this application. In addition, its solid state LED source technology requires minimal maintenance and is camera-friendly.
Chroma-Q Studio One 100™ warm white LED PAR fixtures utilising the same core technology are used to provide warm white house lighting in the room.
AC-SP specified a Litec QX30 truss lighting grid due to its high loading characteristics for supporting weight over a large span distance. The team worked with a structural engineering company to calculate the load-bearing requirements of the truss grid in order to support the weight of a large video screen and speakers due to be added in the future. Once the load-bearing capacity had been calculated, AC-SP had custom brackets manufactured to support the weight of the truss grid, from the outer walls.
All lighting fixtures in the rig are controlled from a Pharos customisable touch panel interface, which AC-SP pre-programmed to provide simple button control of the house, performance and existing photographic lighting, either individually or as a combination of the different types of fixtures.
Finally, the team supplied a Triple E double track system custom made to size for the studio.
Matt Parkin, Head of Studios, commented: "We're really happy with the end result provided by A.C. Special Projects. They provided a very high quality solution and installation which perfectly meets all our needs. The lighting is very easy for our students to operate and has added a new dimension to their filmed performances in the Belle Shenkman Studio. I wouldn't hesitate to recommend them."
The RCM has trained some of the most important figures in British and international music life, including composers such as Holst, Vaughan Williams, Turnage and Britten; conductors such as Leopold Stokowski, Sir Colin Davis and Sir Roger Norrington; singers such as Dame Joan Sutherland, Sir Thomas Allen and Alfie Boe; instrumentalists such as Sir James Galway, John Lill and Natalie Clein.