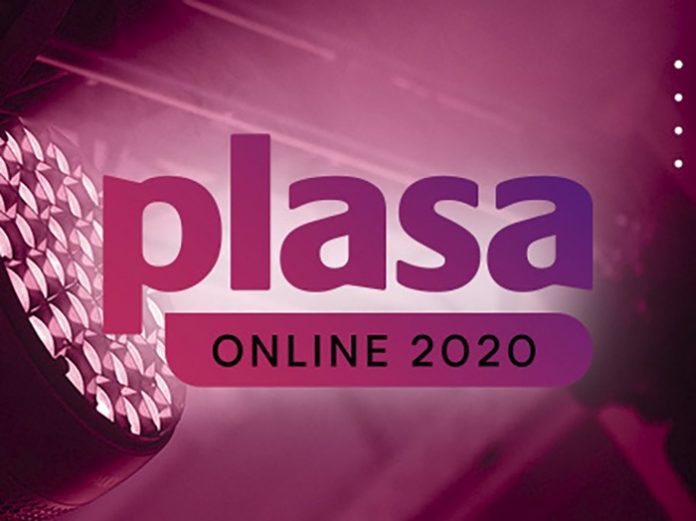 PLASA has unveiled PLASA Online 2020, a programme of free online content from Monday 12 to Friday 16 October designed to provide industry professionals with the knowledge and confidence needed to navigate the COVID-19 crisis and prepare for what's next in live events and entertainment.
Across all five days, there will be a curated selection of keynote talks, discussion panels, product presentations and technical sessions. Thought-leaders and business experts will address the most pertinent issues such as the Covid crisis, Brexit, technological innovations, and safety regulations.
Additionally, audio, lighting and AV will present their latest products and solutions including Adam Hall, DiGiCo, ETC, Highlite, Signify, Sound Technology and Vectorworks. These sessions offer a fantastic opportunity to discover the latest technology in preparation for when live events resume.
James Simpson, Lighting Visualiser for Copper Candle, will present the best in virtual theatre and live event experiences. He will explain how you can use your existing skills in this emerging sector and will demonstrate his new virtual theatre platforms which he hopes will become the future of virtual theatre.
Award-winning speaker Marcus Child will speak to how industry professionals can build resilience and lead in times of challenges. Marcus's impressive reputation as a speaker spans 18 years in which he has helped thousands of CEOs, MDs, politicians, and sports personalities to make positive long-term changes.
For those who manage electrical equipment, Chartered Engineer, James Eade will run a session on the recent changes to the IET Code of Practice for In-Service Inspection and Testing, commonly known as PAT testing.
Renowned economist Roger Martin-Fagg will provide insights into how the UK is coping with the lockdown and will offer predictions for how the country may recover through 2021/2022. And HR expert Nicky Gleadow who will advise on current employment law and how it applies during the Covid crisis.
There will also be a panel with leaders from the #WeMakeEvents team who will relay developments from the frontline of the campaign, as well as a panel talk on mental health and wellbeing, a topic which has proved more vital than ever in recent months.
PLASA Managing Director, Peter Heath, commented: "We understand the ongoing challenges faced by our industry which is why we have worked hard to put together an online programme that delivers high quality content on the most pressing issues. PLASA Online also provides a platform for new products and we are delighted to be able to showcase the latest offerings from some of the biggest names in the industry. Ultimately, PLASA Online aims to provide an overview of where our industry is at right now with trustworthy advice for how you can strengthen your business and survive the Covid crisis."
PLASA Online 2020 will run from 12 to 16 October. All industry professionals and students are now invited to register for sessions throughout the free five-day programme.