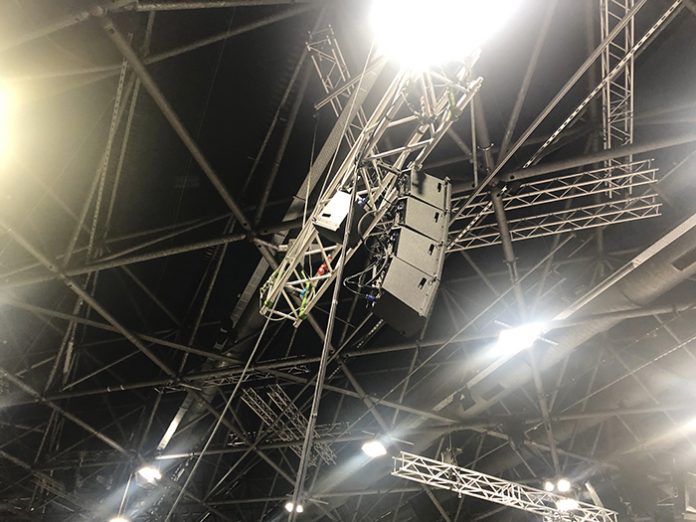 The Bremerhaven City Hall used the COVID-19 break to bring its in-house PA system up to date. In order to be able to fill different events flexibly, the choice fell on the scalable M-Line from SE AUDIOTECHNIK.
Consisting of a total of ten M-F3A PRO tops, four S 15 PRO subwoofers and plenty of accessories, the new system can be set up in a wide variety of ways. The conversion is very quick and easy, especially because of the very compact, lightweight M-F3A PRO line arrays – each one has an A4 front surface and weighs only 8.3 kg. Whether flying or in a stack on the subwoofers, two men are more than enough for the complete conversion of the compact lightweights.
Jan Hendrik Banaschewski, Technical Manager commented: "In our search for a new sound system, we came across SE Audiotechnik from Solingen. We were promptly given the opportunity to have a demonstration of the M-Line in-house. Manne Sumfleth from SE-Audiotechnik, in cooperation with Blue Sound / Herbert Heinze as an executing partner, demonstrated the advantages of the compact but powerful M-Line system.
My colleagues from technology and I were very surprised by the performance of these compact speakers with a weight of only 8 kg … above all, how precise and excellent the speech intelligibility is, even at a great distance in the hall and in the stands! For music we have ordered 4x S15 Pro basses in addition.
Flown or set up quickly as a tower, everything is very handy and light – and if necessary, the assembly can also be carried out by one person alone. In addition to the excellent sound, this finally convinced us.
We have already had many product demonstrations from other manufacturers in-house, but SE-Audiotechnik from Solingen was good value for money in all points. After the demonstration, it was clear to us that we would invest in this system."