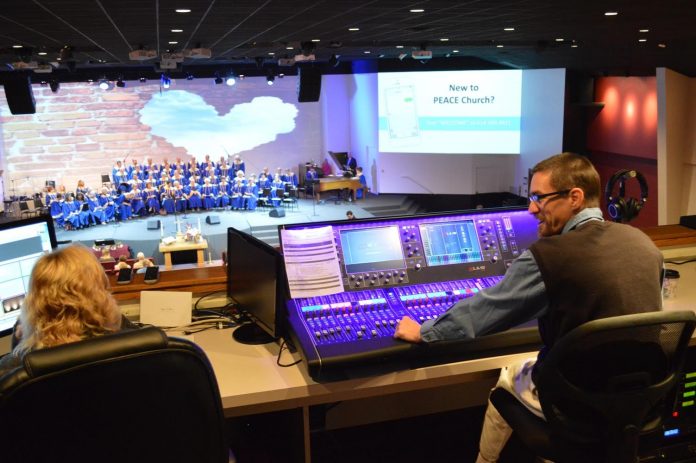 Located in Pickerington, Ohio, Peace United Methodist Church recently undertook a mass refurbishment of its audio, video and lighting equipment, installing an Allen & Heath S Class digital mixing system at the centre of its new audio system.
The Church now worships in a large and modern building with educational wings, a 700-seat worship centre, a 12-projector, edge-blended video system, architectural and theatrical lighting and a new audio system with the flagship dLive S7000 Surface and DM64 MixRack at the helm.
Peace UMC's previous audio system, installed in 1999 had received few upgrades and did not meet the needs of a church with both traditional and contemporary services, a large choir and praise band and a growing congregation.
In setting goals for the new audio system, Senior Pastor Bill Lyle requested a digital mixer with the ability to save scenes and recall settings for different services while simplifying operation for the church's mostly volunteer tech crew. The church considered several digital mixers but settled on Allen & Heath's dLive for its versatility and ease of use along with its high quality sound.
Technology Service Pros of Canal Winchester, Ohio designed and installed the church's new audio, video and lighting systems which support the church's mission to reach out to its community with high-quality live video and audio along with recorded sermons and choir music available on the church's website.
John Kershner of Technology Service Pros said the dLive is a "huge leap forward" for Peace UMC. "It has enough input capacity and processing power to handle the church's multi-input Good Friday Cantata, for instance, but it's easy to understand and doesn't overwhelm the tech crew." John noted that the church hopes to add Allen & Heath ME-1 Personal Mixers for its praise band soon.
Pastor Lyle commented: "Along with our new line-arrays, the dLive has brought a major improvement in the clarity of our live sound. And the recordings we have made are as good as any professional recording I've heard." He continued: "The dLive gives us great control over vocals and instruments and we really appreciate the iPad app. The system allows us to do exceptional traditional worship as well as cutting edge contemporary worship. We absolutely love this mixer. We can do anything we want with it. It has certainly exceeded our expectations."