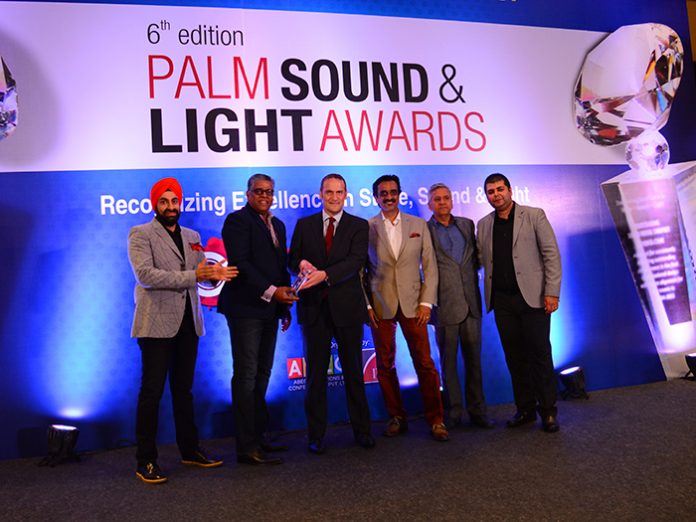 PALM Expo now in its 17th edition will once again attract International manufacturers alongside new Indian companies to launch their latest products, propelling the industry and encouraging the connection between manufacturers, distributors, dealers and end users. Here's a low-down of the much-awaited event.
The PALM expo has firmly established itself as the premier event for entertainment event technology in India. The 2017 edition will once again take place at the BEC, Mumbai from 1– 3 June.
The very latest technology will be showcased by 500+ brands for use in live stage shows, entertainment and corporate events, theatre productions, installations in venues like nightclubs/pubs/lounges, houses of worship, broadcast and AV, leisure attractions, etc.
Over 200 of the industry's leading local distributors and international brands will showcase state-of-the-art pro audio, lighting, installation and rigging technology at the show.
New Exhibitors at PALM 2017
The show continues to grow year on year, expanding by another 10% this year. Last year the expo boasted of separate halls for lighting and pro sound + music production, making room for more stands on the show floor. The expanse of exhibits in each segment meant more efficient movement of buyers leading to better business for exhibitors. The 20,000+ visitors, flooding the aisles over three days were benefitted in better floor management for easy access to product and technology
This year the expo is all set to welcome a record number of brands through a 20% increase in new exhibitors from 2016. Companies will be showcasing some cutting edge technologies and products on the expo floor and this year PALM has also focused on inviting more and more Indian manufacturers to exhibit, thus promoting the government's initiative of Make in India.
Some of the new products at PALM include:
"Made in India" LED Dance Floor from AURA OPTO-ELECTRONICS INDIA PVT. LTD; CELTO ACOUSTIQUE IWAC series Line Array Speakers and VCM series compact, low profile coaxial monitor at the AG Acoustics India Pvt. Ltd booth; MA LIGHTING'S new compact range of modular lighting control solutions- the dot2 core and SHOLITE SHARPY and MAGIC-FX STADIUM SHOT II at the Modern Stage Service booth; Icon Pro Audio ULTRA 4, audio interface at Pink Noise Professionals Pvt. Ltd. booth; latest MARANI digital speaker management systems DPA-260P and DPA-480P and the and the new JTSSGM-14 at Sonotone Electronics booth; Aluminum Truss E1480 by Weifa Trussing Co., Ltd.; LIGHT SKY beam by Fly Dragon Lighting Equipment Co., Ltd; Rock EUR, Rock UR, and NX Audio's Slam 5, M5K, N14K, IT Series Amps at Narain Audio & Lighting LLP booth; new products by TASCAM being displayed by Sun Broadcast Equipments Pvt Ltd.; the new LS4.81 LED display by Shenzhen Gloshine Technology Co., LTD; introduction of VGA and HDMI Cables till 100 mtrs by Jinali Enterprise; FLIGHT CASES made by Non Bio–Degradable Plastic Aluminum Composite Board by RAJRATAN; PRV AUDIO'S 12MB1003FT by H V & COMPANY; Alphatec Audio Video Pvt Ltd, will debut at the show a series of new products like KLARKTEKNIK'S DN 200 and DM 8000, BEHRINGER'S U-Control UMX 610, TANNOY'S TKT series; LABGRUPPEN'S Lucia; new version of the TG 1000 digital wireless system by BEYERDYNAMIC; India's first modular synthesizer by first time exhibitors Modular Analog; POWERSOFT QUATTROCANALI series of Amplifiers, Powersoft Deva, TW Audio C5, B10 and T20loudspeakers and Quested Cinema monitors by ACOUSTIC ARTS PVT. LTD.
The number one flag bearer of the show, Yamaha music, will display an entire bouquet of products which include Wireless speakers and preamps, VXS Series M and S compact surface-mount speakers and subwoofers, MX series and Montage synthesisers and the RS 320 Series Yamaha Guitars.
For visitors and delegates wanting to develop their professional skills and knowledge quotient, PALM Conference & Seminar Programme is back with a stellar line-up of expert speakers driving the three day event from 1 to 3 June at the Mezzanine level of hall 1 of the BEC.
Support from Platinum Partners Yamaha this year has provided crucial impetus to the staging of the programme. Yamaha is also the Sound Partner for the 2017 PALM Conference & Seminar providing vital audio services and sound support to the three day programme.
The three-day programme will be an amalgamation of product presentations, Q&A sessions, workshops and panel discussions. Speakers this year include ace visual & lighting designer Becket Tundatil, who will answer questions on designing lighting for the big stage. The speaker profile for the programme includes the country's most sought after technical and engineering talent, sharing their expertise on the platform. On day one, which is the day dedicated to stage sound & lighting, top live sound engineer Fali Damania in an exclusive Q&A session will let delegates in on the tips and secrets in the live sound realm and everything you wanted to know about the final live sound mix, which no one else will tell you.
The theme of Music Production on day three is also high on the agenda; Donal Whelan of Hafod Mastering, UK will explore the topic of "Cultural Differences in Production and Mastering Practices" along with Vijay Dayal, Recording Engineer with Yash Raj Films.
Point Blank Music School, UK will host a masterclass by award-winning Bollywood composer Sanchit Balhara, where, Balhara will give an insight into his creative process, showing his approach from original composition through to orchestration and recording using a working example score from the Indian epic Bajirao Mastani.
Post lunch will see Oscar winner Resul Pookutty, in an interactive Q&A session and present his expertise on "How to record film sound- A modern perspective."
Day three sessions will conclude with the hugely popular Open Forum for sound engineers in association with AES, convened once again by Aditya Modi, of AES. Others on the panel include Chairman of Audio Engineering Society, India – Uday Chitre and renowned sound engineer Mahesh Amberkar. Also running over the three days are product presentations by leading manufacturers like Yamaha, Harman, and Marani. Michele Marani of Seed Digital Asia will conduct a "Presentation on Loudspeaker Management Systems" while A.R. Chandrashekhar of Anuvin Consultants will provide info on "Bridging The Gap – ICT /AV / Security".
The Demo Qubes which are an extension to the exhibition floor will once again enable audio companies to demo their sound systems with ease in a very private cube structure that is specially created for this feature. This year, visitors will be able to experience Demo Qubes by Bose, Pope Professional, RCF and Rivera Digitech respectively.
Additionally, the 'Open Air Line Array Demo' will showcase some of the best line array systems in realistic conditions. This year the venue for the demo has been relocated to Ground 1, visitor parking, BEC. The 12 confirmed line array exhibits are from brands that include: Amate Audio, Audiocenter, Carlton Audio, Stonewater, Ewing, KV Audio, Lloyd Audio, Next proaudio, Outline, Sound Capital, Star Acoustics and TW Audio.
Besides boosting the business and knowledge quotient, the PALM Expo also acts a platform and catalyst to recognise and honour innovation in technology, quality work and talent and skill of industry professionals, through the PALM Sound & Light Awards and IRAA Awards, complete details of which can be found on the PALM expo website.
HARMAN PALM Live Arena, one of the most loved exhibitor features at the PALM, will be back once again in Hall 6, BEC with performances from some of the biggest artists and bands.
The PALM Soundscape has now evolved to greater heights with DJ Championship Director Reji, curating the Soundscape sessions too with an amalgamation of power-packed Electronic music and DJ centric panel discussions, workshop, and product presentations.
The Soundscape will enable DJs across the country to learn from and network with some leading industry experts like Aneesh Prasad – Co-founder and Director at The Outbox Project; hip-hop artist, Enkore; Turntablist & Sound Designer, DJ Skip; Ma Faiza – The Mother Of Electronica in India; Parampreet Singh Dhanoa – Head of Operations at Zee Live; Richy Dave – Founder of SURGE Digital; hip-hop artists, SEZ and Shah Rule; Tanseer Jabbar – Producer, DJ and founder of The Inventory.
These speakers will share their experience and expertise on panel discussions which include 'Mega Stage Events 101'; 'Hybrid DJing: music production meets live DJing Workshop'; 'Reiventing the Wheels of Steel'; 'Market presence… through the social media lens' and 'The Indian Hip-Hop explosion'
This feature will also host the Synthfest by United Machines (Himanshu Pandey) with gear provided by Sound.com
The first two days of the PALM Soundscape will conclude with pro and amateur disc jockeys battling it out for the coveted PALM DJ Championship title. PALM DJ CHAMPION PREMIUM PRIZE PARTNER – DENON will sponsor the DENON MCX 8000 (for the winner), DENON MC 7000 (first runner up) and DENON MC 6000 MK 2 (second runner up).
This partnership reflects the pioneering spirit of the Denon brand by encouraging upcoming DJ talent in India.