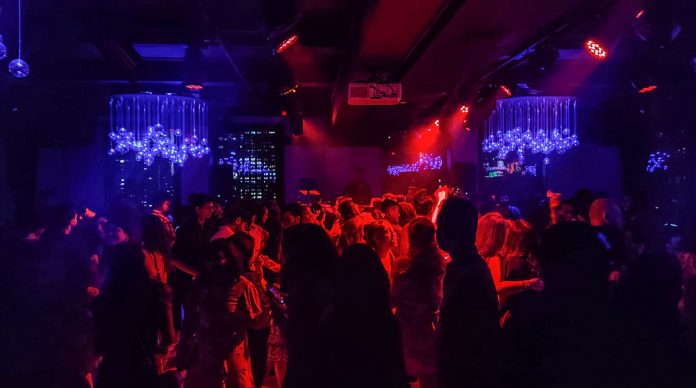 A variety of ADJ moving head, static wash, led video panel, and atmospheric effect fixtures have been installed at 230 fifth, the chic bar, nightclub, and event space located on iconic 5th avenue in New York City. supplied, maintained, and operated by manhattan-based audio-visual specialists canal sound and light, the versatile lighting rig adapts seamlessly to the wide variety of events hosted by the venue. these range from weekend club nights to midweek comedy shows, and performances by live acts to private parties hosted by corporate clients.
230 FIFTH is a 30,000 square foot indoor and outdoor bar, lounge, and event space located in the building on the corner of 5th Avenue and West 27th Street in the heart of Manhattan. The venue is spread across two floors and features multiple areas. The 20th floor is divided between Penthouse – a lounge/club open to the public Wednesday thru Sunday – and the Empire Room – an event space used for one-off ticketed events as well as private gatherings and corporate parties. Meanwhile, the 21st Floor features a rooftop bar which is completely open to the air and offers incredible views across the New York City skyline.
Canal Sound and Light (originally Canal Hi-Fi) has operated from the same location at 319 Canal Street, in the heart of New York City, since 1977. As well as retailing DJ, lighting, and audio equipment, the company has a busy rental and production department, and also takes on regular integration projects, including many of New York's nightlife venues. Canal Sound & Light's owner, Jeffery Kwan, has enjoyed a long working relationship with the owners and management of 230 FIFTH, and Canal Sound and Light have supplied all the venue's audio and lighting equipment for the past eight years.
Prior to the global pandemic, in early 2020, the Canal Sound and Light team were in the middle of carrying out significant upgrades to 230 FIFTH's audio and visual systems across its multiple rooms. The project, which was headed up by Canal's Gabriel Perez, had to be put on hold for 18 months but has now been completed. It involved the installation of a variety of new lighting fixtures in both the Empire Room and Penthouse as well as an LED video wall behind the DJ position in Penthouse. To create the LED display, Canal utilized 10 of ADJ's Vision Series VS2 panels, arranged in a 5 by 2 configuration. The wall is used for a variety of purposes, including to display visuals and logos for club nights and custom graphics for corporate events.
"In New York you're always in close quarters, so even though the DJ booth and screen are behind the bar, there's still only a short distance to where people can stand, which meant pixel pitch was very important in choosing a panel," explains Gabriel. "At 2.97mm, the VS2 has the highest pitch in the ADJ range and was perfect for this application. It looks great. There are also 15 – 20 TV screens in Penthouse, which are connected into the same AV system, but the video wall really stands out wherever you are in the room."
A total of 20 ADJ Ultra Bar linear LED fixtures, split across the Ultra Bar 6, Ultra Bar 9 and Ultra Bar 12 models, are installed around the perimeter of Penthouse as well as behind the DJ position. These provide ambient color washes throughout the venue's operating hours, both when it serves as a lounge bar in the early evening and when it transitions to a dance club at 10:00pm. There are also six of ADJ's Saber Spot DTW compact, LED-powered warm white pin spot fixtures which are used to highlight the DJ position as well as other venue features.
Energy is then injected into the space, especially around the dancefloor area, through the use of moving heads as well as ADJ 3D Vision LED panel fixtures, which provide 'eye candy' effects. These are mounted in cluster of three to the roof as well as on the front of the DJ booth. Meanwhile, eight of ADJ's extremely compact Inno Pocket Z4 LED-powered zooming wash moving heads have been installed around a pillar located at the center of the dancefloor. These are used to create fast-moving wash effects that immerse the dancefloor with vibrant flashes of color.
"The Z4s are great," enthuses Gabriel who, alongside Canal's Uriel 'Chicken' Coria, runs the lighting for most of the venue's club nights and special events, "especially on Friday and Saturday nights when the club is full, they really provide the impact. They are so small that their movement is crazy fast, which allows us to keep the energy high, and the output is more than enough for a room of this size. Being compact also helps because the roof is pretty low."
The wash effects are then overlaid in the club by two of the unique Stealth Craze multi-beam moving heads from ADJ's sister company Eliminator, as well as eight of ADJ's best-selling Vizi Beam RXONE discharge lamp-based fixtures and three of the newer LED-based Focus Beam LED model. The RXONEs have served the venue well for over five years, and continue to do so, but they are being slowly transitioned over to the LED-powered fixtures, as management are looking to eventually switch completely to this more energy efficient and lower maintenance technology.
"When we first suggested the Focus Beam LED, management weren't sure about an LED beam and wanted to go for another discharge lamp fixture," explains Gabriel, "having been so impressed by the Vizi Beam RXONE. But we convinced them to try it in the Empire room and they absolutely loved it. So much so that we are now in the process of also replacing the Vizi Beam RXONE's in Penthouse; they are now onboard for moving to a fully LED-based rig throughout the venue! The output is fantastic for an LED-powered fixture – in fact it almost looks like a discharge lamp – and the features are great too: the colors look vibrant, the prisms work great, and the 2.5-degree beam angle is super sharp."
Completing the Penthouse lighting rig, another new addition as part of the recent upgrade were a pair of ADJ's Jolt 300 multifunction LED-powered strobe / blinder / wash fixtures. Each of these compact yet punchy units feature a central strip of cool white LEDs flanked by arrays of RGB color mixing LEDs. Both LED types are grouped into three independently controllable zones, allowing for the creation of eye-catching chase effects.
"The Jolts have been one of the best additions we've ever made to the room," comments Gabriel. "We're able to combine them with the Z4s in a way that creates incredible impact. Color FX running across the zones creates the magic of New York! It's also a very dark room, with very few houselights but, set to a nice warm white, we can use the Jolts to serve that purpose too, when we have special events that need more ambient light."
ADJ fixtures are also used exclusively in the Empire Room, 230 FIFTH's versatile event space. Here the rig has to be extremely flexible, as it hosts everything from comedy shows to headline DJ sets, art exhibitions to live music performances. 12 more of the Ultra Bar 6 linear wash fixtures are used to illuminate the hallway that leads to the space. Meanwhile, wash lighting inside the room is provided by seven of ADJ's Vizi Hex Wash7 moving head fixtures alongside a total of 17 LED pars, split across the ADJ 5PX HEX, 12PX HEX and 18PX HEX models.
"Pars are an important part of the show, those are the guys doing the strobe over the dancefloor for club nights but also providing static color washes for more low key events. For example, this week we had an art show with pieces displayed around the room, so we were able to light them with the pars. In fact a lot of the lights we pick for the room serve double purpose – we don't like to use one trick ponies! Because we need to be flexible, to do whatever the client asks of us in a space that hosts a really wide variety of events from club nights to comedy shows, live acts to corporate events."
Alongside the previously mentioned Focus Beam LED, of which there are four fixtures installed in the Empire Room, there are also six of ADJ's unique 3 Sixty 2R twin head movers. Described by Gabriel as 'the double-headed monster' this fixture has long since been discontinued, however is still going strong at 230 FIFTH, creating energetic beam effects and providing testament to the longevity of ADJ lighting!
Another long-serving fixture still in use in the Empire Room is the ADJ Inno Spot Pro, with two units still going strong which will eventually be upgraded to ADJ's LED-powered Focus Spot 4Zs. There are already three of these fixtures installed in the space, which serve a wide variety of different purposes depending on the event and time of the evening.
"I like the intensity of the 4Z," enthused Gabriel, "the GOBOs look really crisp. The LED engine is very powerful and it has all the features we could ask for, which makes for a very versatile fixture that gets a lot of use in the Empire Room. Their primary function is usually to provide punchy pattern overlays. We often have bands and other acts coming in, so we use them for nice break-apart GOBO projections to provide a backdrop to the performance."
The Empire Room's lighting rig is completed by six ADJ Saber Spot DTWs, which are used to highlight décor features, alongside three of the COLOR 5 Profile Ellipsoidals from ADJ's sister company Elation Professional. Meanwhile, to enhance the beams created by the various lighting fixtures, both the Empire Room and Penthouse are equipped with ADJ Entour Venue professional 'faze' machines, which use water-based fog juice to create a thin lightshow-enhancing mist.
"We really have to thank the owners and managers at 230 FIFTH for allowing us to be creative," concluded Gabriel. "They trust us to make decisions relating to the lighting and audio, using our experience and industry knowledge, and that has allowed us to create a fantastic rig that is very versatile. They are also willing to invest regularly, which means we can continually introduce new fixtures to keep the look fresh. It's a busy venue, with events programmed Wednesday thru Sunday, as well as extra private parties, so the equipment works hard. Fortunately, the ADJ gear is always reliable, which is one of the reasons that pretty much every fixture in there now is from ADJ."