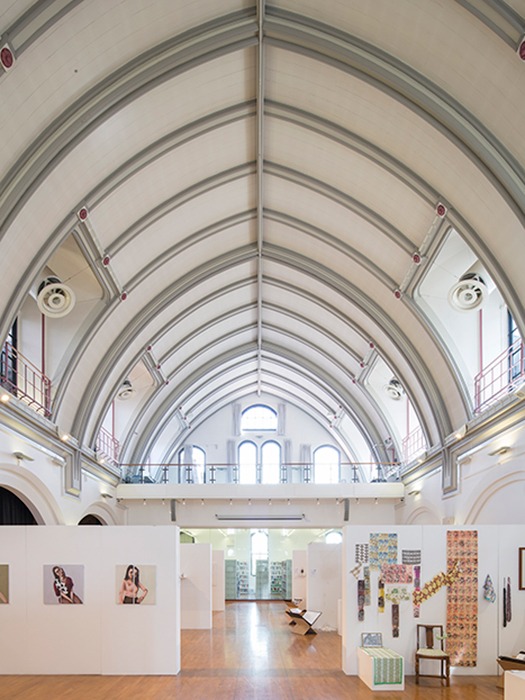 System integrators Pure Audio Visual has been achieving increasing success with Martin Audio's discreet OmniLine micro array systems in university lecture and room multi-purpose facilities as its reputation spreads.
Pure AV Systems Specialist Colin Hasted has helped this award-winning system open up a vibrant new channel for a product that has traditionally been more prevalent in the HoW sector.
"Since receiving budget approvals, universities in the north west, in particular, have gone for this in a big way – adopting OmniLine through example," he said. "OmniLine has proved ideal for awkward, multi-purpose spaces with difficult acoustics, where a discreet solution is required. As a result, we have OmniLine in well over half of the north west universities and all the Liverpool universities – with more to come.
"This solution stresses the importance of the audio component in AV integrations which have historically been dominated by video. At times when multi-media / high impact learning is so prevalent, clearly distributed audio, as demonstrated by OmniLine, helps to boost concentration and remove any fatigue."
Situated at the University of Cumbria, the Energus events / conference venue in Workington is the place where Pure AV's OmniLine journey began around five years ago. Pure AV were approached to provide a complete AV solution for their state of the art training facility in Lillyhall. "It was a lecture theatre in a circular / cylindrical room with a horrendous acoustic," Colin continued.
"Prior to Pure AV's involvement, the client's expectations for their centrepiece auditorium was mono pendant speakers – since the auditorium was round, and the roof rose steeply from the rear of the room. Space was also an issue as any standard speakers would be extremely close to the presenter area."
Using the Martin Audio OmniLine software, Pure AV demonstrated that good quality FOH reinforcement could be achieved without excessive spill – both into the ceiling void and presenter area by precisely controlling the directivity.
They specified an eight-element OmniLine array each side of the projection screen in traditional theatre format, along with Martin Audio AQ5's and AQ112 single 12-inch sub. "This gave them full 5.1 surround sound, something the client didn't think achievable."
Word spread fast and other educational establishments were quick to follow. Immediately impressed with the Energus install had been Redcar & Cleveland College, where their performance space and conference room was soon boasting a similar pair of eight-cell OmniLine hangs, a perfect dynamic solution for a multi-functioning space.
At the 264-capacity Main Arts Lecture Theatre (MALT) at Bangor University Pure AV designed an L/C/R OmniLine set-up with a central hang of four elements flanked by two six-box hangs having demonstrated that the system could provide even coverage and excellent intelligibility, obviating the need for a separate vocal PA system. With some low-end reinforcement the system was sufficiently dynamic to make light work of even the most demanding surround sound content.
But Universities have differing uses for their multipurpose spaces. Lancaster University (LICA), for instance, is a performance arts facility that posed new challenges. The building is entirely built from wood and thus had reverberation issues. Specifying the OmniLine system meant that the audio could be accurately aimed to limit any hard reflections from the back wall. As this is mainly a drama space, speech intelligibility, especially from head and lapel mics, was paramount and care was needed to place the sound away from the stage and firmly in the audience.
Also situated at Lancaster University, the Bowland Lecture Theatre / Cinema is another multi-purpose space requiring excellent speech intelligibility and even content playback for its role as a lecture theatre; but once lectures are finished for the day the room converts to a student cinema. Again, two eight-element hangs of OmniLine, with a little low end reinforcement, met all the requirements perfectly.
The success continued in Liverpool where John Moores University was the recipient of twin OmniLine eight-cell hangs, with further twin OmniLine six-cells in two smaller spaces. Using different array sizes in the three theatres not only suited the theatre dimensions but also ensured consistent voicing across all theatres, noted Colin.
Based nearby, Liverpool's Hope University approached Pure to look at their Everton Hall. The existing set-up was a distributed system mounted high above the space. With its vaulted ceiling, the hall's distributed system was simply 'exciting' the room too much. Pure AV opted for the OmniLine as they were confident that the excellent directivity of the unit could bring the room under control without the expense of sympathetic acoustic treatment. With the twin eight-cell OmniLines installed, the facility can now host everything from lectures to live performance.
At the University of Manchester, Pure AV replaced the existing line array which, despite having the volume required to fill the room, didn't have the necessary directivity to tame the poor reverberant acoustics in the University Place building, with its high roof void. They designed a system for a 600-seat main room, expandable to 1000 when the overflow space is incorporated into the main space. This required greater muscularity and the L/R hangs of 12-cell OmniLines are complemented by twin six-cell OmniLines at the mid point and a further repeated delay of four elements per side at the rear to overcome the acoustics for conferencing and lectures.
At Keele University's 400-seat Westminster Theatre Pure AV specified further stacks of 12-cell OmniLines along with a Martin Screen Sub (from its cinema portfolio) which recesses into the space vacated by the pre-existing sub. Impressed with the system, Keele has now purchased a further dual eight-cell system for one of its major lecture theatres.
"As with all our installations we use SMAART system alignment, with the speaker management handled in the DSP," stated Colin. "This ensures that every system is fully optimised for each space."
Following on from the success, Pure AV moved south to the 260-seat lecture theatre at Harper Adams University in Telford with two hangs of eight-element OmniLines, cross firing to squeeze the sound under the existing balcony.
Colin said that OmniLine has now become the central component in a rolling upgrade programme as Pure AV continue to establish a high-grade solution in the educational sector. "He love the system for its versatility – it's extremely good for speech and with the sub added in it gives a punchy music response. Once the system is balanced you can throw anything at it and it never sounds harsh – the clarity is hugely impressive," he said.
"The ability to either fly or wall-mount these provides extra flexibility, and of course there are no loading problems as the volume to weight ratio is stunning."