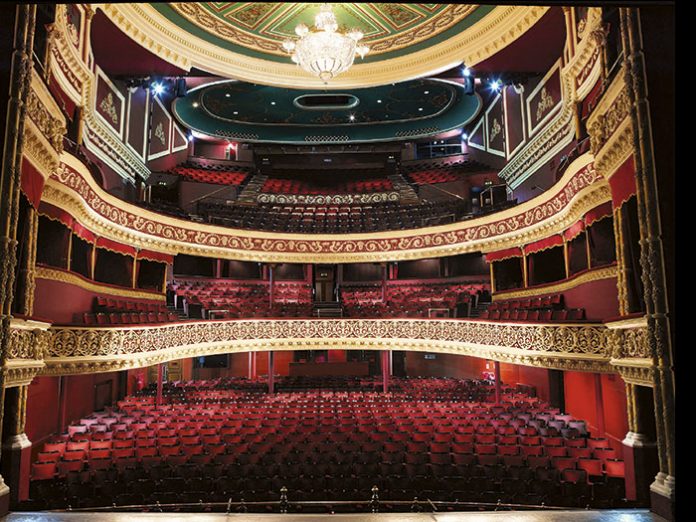 The Gaiety Theatre on Dublin's South King Street is the city's longest established theatre in continuous operation. Since November 1871 and the opening night's double bill of 'She Stoops to Conquer' and the burlesque tunes of 'La Belle Sauvage,' the Gaiety has been entertaining Dublin audiences with a mix of musical shows, opera, ballet, dance and drama. In more recent times, it hosted the 1971 Eurovision Song Contest, a venue in distinct contrast to the mass arena productions of today. Since the millennium, the owners have invested over €7 million in the refurbishment and updating of this sumptuous theatre.
In 2013, d&b audiotechnik Partner, MOSCO, provided a pro audio installation of Q-Series and E-Series loudspeakers to the venue. It proved a resounding success across all entertainment genres, particularly from Riverdance, having employed the Q-Series for ten summer seasons. Through that successful partnership, the Gaiety returned to MOSCO to update the Q system this year. A Y-Series solution, with E-Series as delays has now been installed.
The Gaiety's Director of Technical Operations, Matthew Cregan explained: "We have a vast range of productions here at the Gaiety, from straight dramatic plays through to full musicals and artists such as Riverdance. The d&b audiotechnik system handles everything we can throw at it: the quality of vocal reproduction is second to none, whatever the genre. So when it came to upgrade, we had no hesitation in calling Mick O'Gorman at MOSCO. For me, quality and value for money is key. The team at MOSCO deliver a top quality product while keeping it affordable. Working with Kevin McGing and Mick O'Gorman, we designed a d&b system that was sympathetic to our beautiful auditorium, placing the PA cabinets in key areas where they worked for sound reinforcement but blended into the architecture of the auditorium. Y may be a small box but there is absolutely no compromise on sound."
The parterre and grand circle levels are covered by Y8 and Y12 line array loudspeakers for the main left/right system, with the low frequency impact supplied by Q-SUBs, an additional B2-SUB for infra effects, and E5s for delays. The dress circle now has a Y-Series Y7P point source system with the little E5s utilised again as delays. On the upper circle the Q7s remain as robust as ever. The loudspeakers are driven by d&b D12 and D6 amplifiers, all controlled via the d&b R1 Remote control software V2.
At the request of Matt Cregan and the Gaiety's Technical Manager, Dan Egan, Oran Burns from the d&b GB EAS team along with Kevin McGing spent a full day optimising the system. "The goal was to integrate all system elements in tonality, level and time, with an emphasis on coherency and intelligibility," reported Oran. "Tuning-Capture measurement software was used to tune and align the elements. Tuning-Capture's MultiWin feature and the clear display of impulse response information made this process very smooth. The final optimised result gives both house and visiting engineers a very good starting point for their show."
"This upgrade from the Q to the Y-Series is proof positive that d&b just keep delivering," concluded Matt. "We are very happy with the relationship we have built with both MOSCO and d&b audiotechnik and look forward to many projects in the future with them."