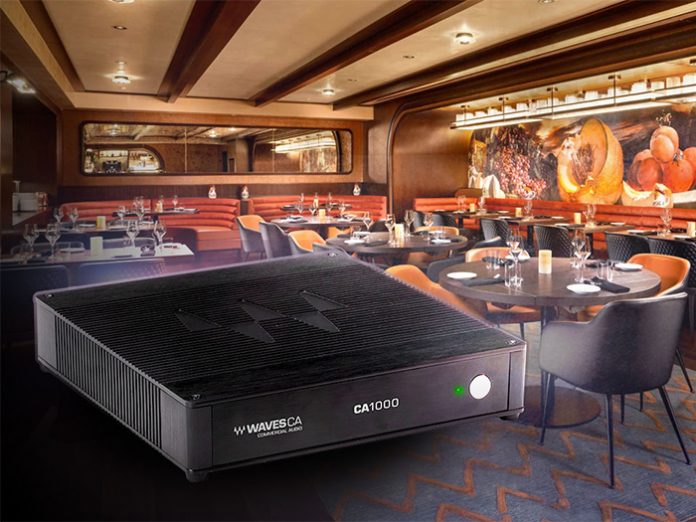 National Technology Associates (NTA), a leading AV integration, design and engineering company, has chosen Waves Commercial Audio solutions for Todd English's Olives, a new fine-dining venue in Las Vegas, Nevada. NTA installed the Waves CA1000 Commercial Audio DSP Engine to deliver stellar audio quality for live entertainers and diners at the venue, which is located at Virgin Hotels Las Vegas.
NTA specializes in providing advanced AV solutions for the gaming and hospitality industries. For this new design and installation project, NTA worked with the venue to provide a multi-zone audio system for the restaurant and lounge areas that would be both aesthetically and acoustically pleasing to the patrons and live performers.
"As this installation was a relatively small area in a fine-dining venue," said Joe Garcia Miranda, Senior Design Engineer at NTA, "we needed an intelligent way to automate audio processing for the performer, without physically having an engineer in the space. Small designs, such as the restaurant and lounge at Todd English's Olives, will often have smaller budgets than some of the larger venues we design. It's always important that we spec products that have the best performance and versatility to fit within the specified budget."
NTA installed the Waves CA1000 DSP Engine to process the microphone, instrument, and playback audio sources in the venue. Choosing the Waves CA1000 at the beginning of the project allowed NTA to adapt quickly to changes requested during the deployment.
Joe explained that the system needed to be versatile to support a variety of performers and instruments used at the venue on any given night: "The venue had initially asked to support only an acoustic piano and a singer in the lounge. The entertainment that was eventually hired turned out to be more complex, however, with a varying cast performing everything from standards to modern pop.
The typical setup is a digital piano in a baby grand shell, backing tracks, and two singers; but this setup can vary. The versatility of the Waves CA1000 platform made it easy to adapt to all the variations thrown at us for successful deployment."
The restaurant/lounge installation was implemented using a Dante network architecture. Joe was able to quickly integrate the Waves CA1000 within the Dante network: "I love the simplicity of using Waves with Dante without having to incorporate additional hardware. Dante is the standard AoIP transport we use as designers working in a hybrid industry that merges commercial, hospitality and entertainment requirements. The CA1000's easy integration with Dante was therefore a must-have feature for us."
Joe and NTA have been using Waves plugins for recording and production, as well as including Waves SuperRack in designs for larger installation projects. This experience helped Joe adjust the factory-installed Waves CA presets and customize them to the exact needs of the venue. "When you mention Waves is 'under the hood,' many musicians just light up," he explains, "because they know it guarantees top audio quality for the venue. For this installation, I created my own processing chains using the presets as a starting point. On vocal mics I set up a plugin chain with the Primary Source Expander (PSE), Vocal Rider, F6 Floating Band Dynamic EQ, Sibilance, C6 Multiband Compressor and IR-Live Convolution Reverb. For keys I set up a chain with the F6 and MV2 plugins, and on the entertainer's playback track I use the Playlist Rider and F6 plugins."
NTA and the client are pleased with the installation and the resulting audio quality. "What's most important," Joe concluded, is that with the CA1000 in place, our client is always happy with the quality of the sound, night after night."