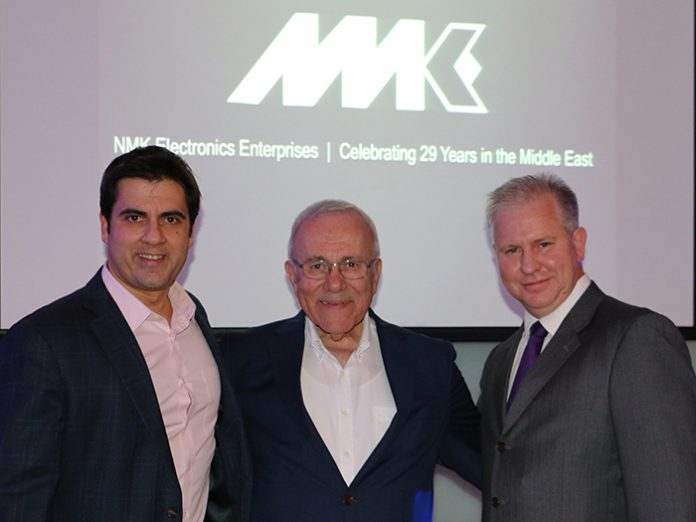 Nicolaos M Kyvernitis Electronics Ent. (NMK), distributor of professional audio, video and communication products in the Middle East has signed distribution agreement with Bose Professional.
"Working with Bose again feels like coming full circle", stated Nicolas Kyvernitis, Managing Director at NMK who started his career in the industry as an Advisor and Pro Manager for the first distributor of Bose in the region. During that period he had the opportunity to follow the teachings of the late Dr Bose.
"30 years ago when we were selling Bose products in the Gulf region, the Pro Division of Bose consisted only of the 802 series one and two and the1800 amplifier. As the years went by the 302 was launched onto the market, and with the limited resources on hand at the time we used the pro series to market and promote home sound system at a few concerts happening within the UAE. For certain period of time, the combination of 302 and 802 was the backbone of the rental and install market in the area. This arrangement worked perfectly, and both companies became successful", continued Nicolas.
The Bose Professional product portfolio has significantly expanded since then, now covering loudspeakers, DSPs and amplifiers. The brand is well-known and highly respected around the globe for its premium audio products and has instant brand recognition, which is critical to NMK's customers who are working hard to integrate audio into their projects.
"Today NMK and Bose have come back together again. Both companies have the know-how, expertise and will to make this relationship fruitful," added Nicolas.
"Bose UAE sales team will be key to making this successful by working closely with our existing premium dealers, integrators and new partner to ensure that our customers are serviced exceptionally while maintaining Bose as the premium solution it is today," commented Kaushal Garg, Division Manager of Bose MEA
"The value added benefits of the partnership between Bose and NMK will ensure improved customer service with enhanced market penetration by leveraging the synergies offered by our two organisations," added Christian Liebenberg, Sales Manager at Bose MEA.