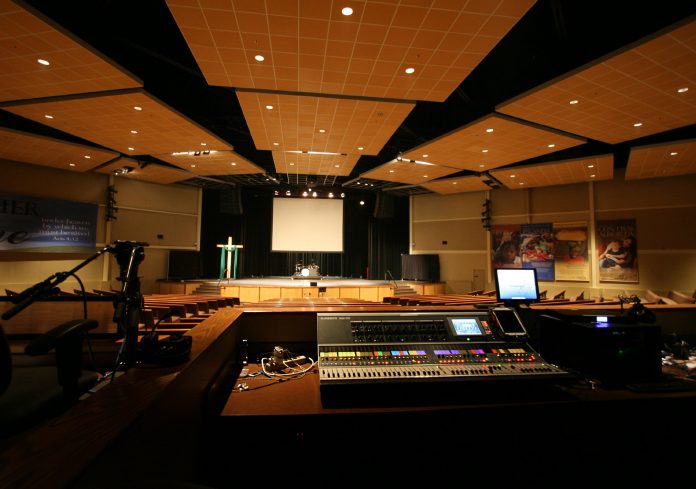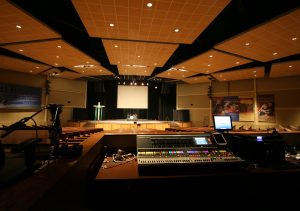 The Crossroads Church in Red Deer, Alberta, Canada, has installed Allen & Heath mixers throughout its six-room facility, ranging from the compact Qu range to the larger iLive digital systems.
The rooms have various capacity and serve many different purposes. Supplied and installed by Parklands, Audio, an iLive-176 at FOH with dual iDR10 MixRacks and an iLive-T112 for monitors were selected for the main 1150-capacity Sanctuary.
"Crossroads needed a future-proof mixer that was flexible for the next phases in construction. iLive also sounded good, and ease of use was of great importance, as it is crucial to have the capability to simplify the mixing process for the wide range of technicians and volunteers. It was also important that each subsequent room had a similar work flow and ease of use, hence A&H mixers were selected for all other phases implemented," says Crossroads Technical Director, Wally Hildebrandt.
The main Sanctuary has two spill rooms, the 300-capacity Chapel, equipped with an iDR-32, iLive-T80, and a PL10 remote controller, and 200-capacity Youth Room. As well as a spill room, the multi-purpose Youth Room is a facility designed for the youth congregation, a community space for concerts, and an activity room for regional schools, and is equipped with a Qu-24 compact digital mixer.
The Studio, used for the live stream mixing, studio recording and rehearsals, has an iDR-48 MixRack with iLive-T112 surface, connected via Dante to the Sanctuary, with 10 ME-1 personal monitor mixers and a ME-U hub, also connected via Dante. A Qu-24 has also been installed in the Music Room, which used for rehearsals. Finally, the Theatre has a ZED4-36 installed. All rooms have an audio link to the main sanctuary.