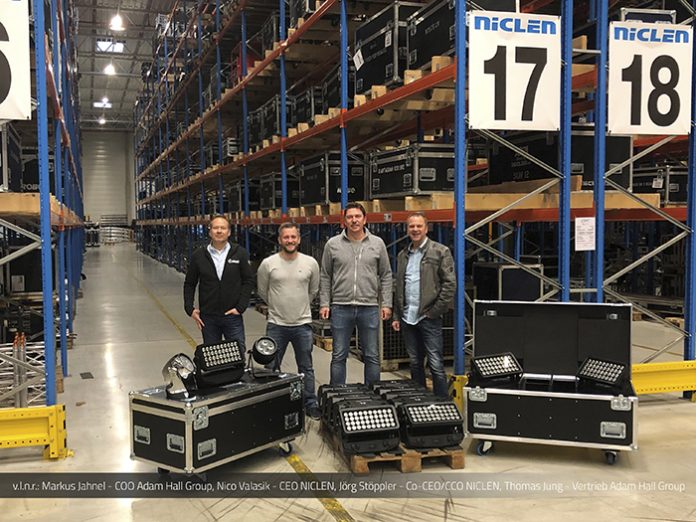 Niclen GmbH, Germany's largest dry hire provider has invested in lights and lighting technology from Cameo Light. In doing so, the Dortmund-based company has expanded its extensive rental park to include the innovative lighting solutions of the Adam Hall Group brand for the first time. Spotlights from the ZENIT series will soon provide NicLen's international customers with compact, robust and powerful products for indoor and outdoor events.
NicLen's investment in Cameo Light includes over 1,000 ZENIT W600 outdoor wash lights, ZENIT P130 PAR spotlights, ZENIT B60 battery-powered spotlights with W-DMX, and chrome ZENIT B60 Cs with a redesigned bracket and iDMX CORE WiFi and W-DMX converter for wireless light control via iOS and Android devices. With the ZENIT B60, NicLen is now able to provide its dry hire customers with a professional battery-powered spotlight for flexible event integration.
Managing Directors Jörg Stoppler and Nico Valasik are extremely impressed with the ZENIT series, not only with the quality of light and superb reliability in even the most demanding applications, but also with the price/performance ratio: "Their performance and multi-functionality are unparalleled in this price class," confirmed Nico. "We are also impressed with the sophisticated detail solutions – such as the SnapMag technology for easily swapping filter frames, and the B60's design brackets, which make the compact all-round PAR spotlights even more flexible when it comes to projects."
The ZENIT W600, ZENIT P130 and ZENIT B60 spotlights from Cameo are now available from NicLen's dry hire department.