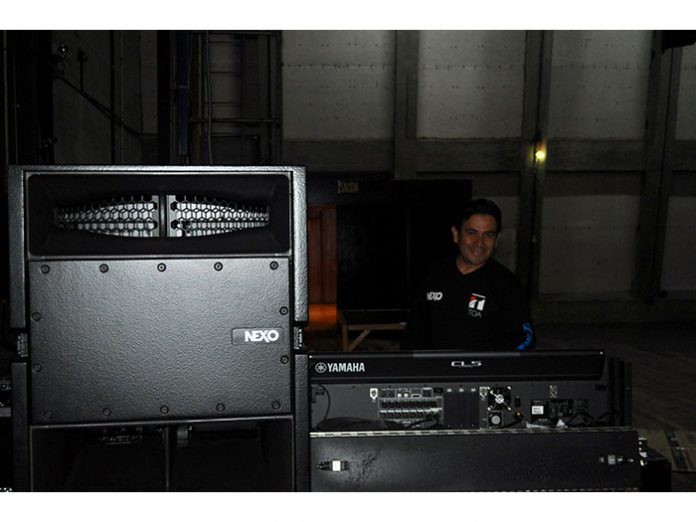 Opened in 1978, Teatro Nacional is now the Guatemala's largest cultural complex, with an auditorium capable of housing audiences of 2,000+, to watch up to 300 artists on the large stage, and more than 50 musicians in the orchestra pit.
The theatre's technical director, engineer Luis Tala, welcomed the completion of the system installation. "This is a very special moment. I remember when I started talking about this project with Celso Papadopoulos of NEXO Latin America, more than 12 years ago." By the time official authorisation was received, NEXO had released the compact STM M28 main modules, providing one of the most popular configurations of its modular STM Series line array.
Teatro Nacional's new system comprises left and right clusters for the main PA, each using 12 NEXO STM M28 modules, with 8 NEXO STM B112 bass modules flown alongside. Behind these two arrays, a third line is flown with four NEXO STM S118 subs.
Four more S118 are mobile on the stage, providing additional subbass when required. On each side of the stage, sidefill is delivered by three NEXO STM M28 plus two NEXO S118 subs, which can be flown or used on the ground. NEXO's innovative 45°N-12 line monitors are used for onstage monitoring, with additional monitoring requirements met by NEXO PS15 full-range cabinets, which can also handle drumfill.
For front fill, the theatre has a number of NEXO's super-compact ID24 cabinets, which can be configured in different ways, depending on how the musical programme is deploying the orchestra pit which can be raised or lowered.
Two Dante networks interconnect the entire system, which starts with a Yamaha RIVAGE PM10 at front-of-house, a Yamaha CL5 console for monitoring, and NEXO's NXAMP4x4 controller/amplifiers. A total of 420 meters of optical fiber has been installed to create the theatre's network, which uses five switchers, three of which are Yamaha SWP1-16s.
NEXO Latin America's technical support engineer Roberto Tschopp played a key role in the installation at Teatro Nacional, personally overseeing the system tuning, and training the theatre's sound department personnel. Roberto worked closely with the system supplier, FAREI SA, in fact the NEXO distributor in Guatemala. Farei engineer Samuel Alonzo was responsible for the installation project, including the design and connection of the Dante networks, all the wiring, and flying the STM Series arrays.