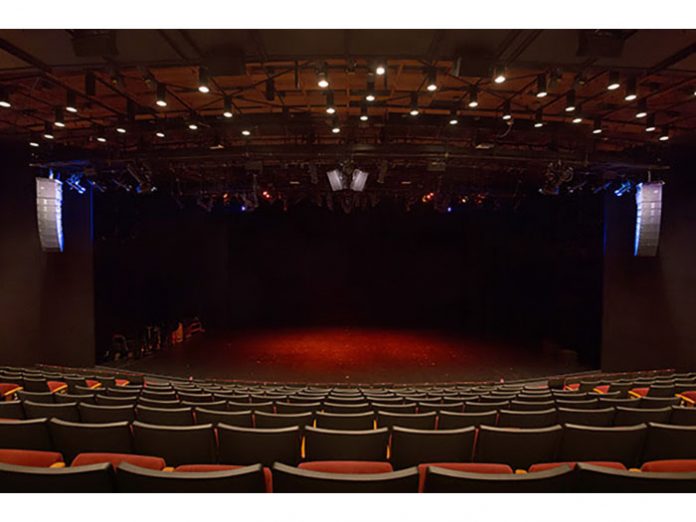 A recipient of nineteen Tony Awards, the American Repertory Theater (A.R.T.) in Cambridge, Massachusetts is widely recognised as a focal point for artistic and technological innovation. To support this ambitious endeavor, A.R.T. recently acquired an extensive Meyer Sound system consisting of a D-Mitri digital audio platform and a complement of 88 self-powered loudspeakers, including new LINA line arrays and an immersive surround setup incorporating proprietary IntelligentDC technology.
"With a mission statement like ours, it's critical that we can follow through on the promise with what we can do in sound," said A.R.T. Sound Manager Sam Lerner. "Thanks to this new set of tools, we can do just this with every production. With such an adaptive setup, our sound team can fulfill the imaginations of our creative teams and respond to whatever need may arise."
The new setup is a product of close collaboration between Sam and Meyer Sound's technical support staff, extending back to Sam's work as associate sound designer on Natasha, Pierre & the Great Comet of 1812 — the audaciously immersive musical that continued its development at A.R.T. before ascending to fame on Broadway.
"I can't think of any other production in my career with anywhere near the level of complexity we had in Great Comet," Sam said, "but it required a lot of extra equipment rentals. Now, with what we have in-house, we have the flexibility to achieve the kind of boundary-expanding theatre we are known for. Yet this system also gives us consistent results for what might be considered more traditional theatre."
At the heart of A.R.T.'s immersive setup is a D-Mitri digital audio platform equipped with seven modules for core processing, digital and analog I/O, GPIO control and WildTracks recording and playback. When controlled via SpaceMap software, the system provides ultimate flexibility for dynamic 3D panning of sounds anywhere in the auditorium.
"Sometimes what we can do with SpaceMap is simple yet remarkably effective," noted Sam. "In our production of WARHOLCAPOTE, as we progressed through the tech process we discovered ways in which SpaceMap could enhance the audience's auditory experience in subtle ways. The play is based on tape-recorded conversations between the two icons [Andy Warhol and Truman Capote], and transitions between scenes were enhanced by sounds — such as reels turning in fast-forward and then stopping with a click — moving dynamically through the space. The effect was subtle, but it pulled the audience into the world of the show in an additional dimension."
Sam expects that the equipment's full potential will be employed with the forthcoming world premiere Jagged Little Pill, directed by Paulus, which incorporates the music of Alanis Morissette's album into a new story. Sound design will be by Jonathan Deans, the acknowledged pioneer of immersive audio not only on Broadway, but also in Las Vegas for productions like The Beatles' LOVE by Cirque du Soleil.
A.R.T. is also among the first theatres to deploy the LINA very compact linear line array loudspeaker. "I'd heard the MINAs before, and the change to LINA comes with a big increase in efficiency," continued Sam. "The fact that you need so little electrical power to produce such quality at high levels is incredibly impressive. The same applies to the 750-LFC [low frequency control element]. You look at it and wonder how something so small can be so powerful."
The loudspeakers on surrounding walls incorporate Meyer Sound's exclusive IntelligentDC technology, which combines the inherent sonic superiority of self-powered systems with the installation ease of low-voltage distributed systems. "Our building is somewhat older, and so one of the practical considerations of this upgrade was electrical power," admits Lerner. "Because of that, the IntelligentDC speakers were a godsend. The fact that you can run those speakers all flat-out — not just the little MM-4s but the big UPJs as well — off 48 volts just blows my mind."
In addition to the eight-each LINA arrays, the complete Meyer Sound roster includes six 750-LFC and two 900-LFC low frequency control elements; two UPA-1P, four UPJ-1P and two UPQ-2P loudspeakers; eight UPJunior-XP, eight UPM-1XP, 10 UP-4XP, six UPJ-1XP and 22 HMS-5 surround loudspeakers with IntelligentDC; four Galileo GALAXY 816 networked processors; and two RMServers for remote monitoring of all loudspeakers.
Additionally, two Meyer Sound CAL column array loudspeakers are installed in the lobby to provide highly controlled reinforcement in this acoustically problematic space. "It's great to be able to focus the sound output for any given event," said Sam.