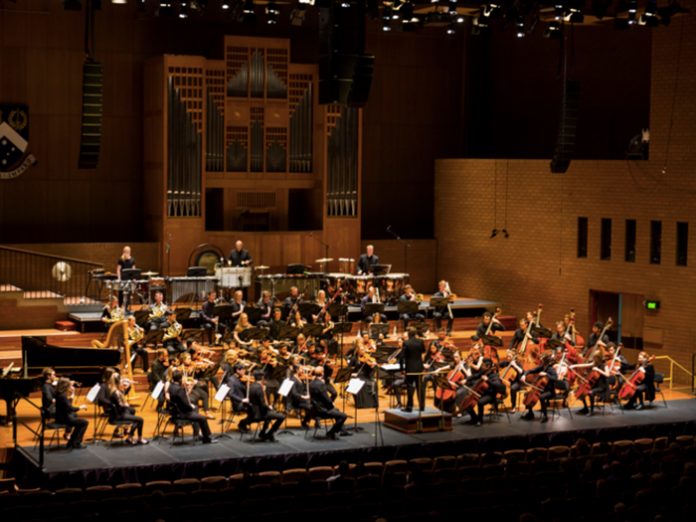 The prestigious Robert Blackwood Hall at Melbourne's Monash University has been equipped with a versatile inventory of NEXO sound reinforcement technologies, including a new GEO M6 compact line array as main PA.
Monash is a public research university based in Melbourne, one of the oldest in Australia. Named after its founding Chancellor, Sir Robert Blackwood, the Robert Blackwood Hall has become Melbourne's most prestigious venue outside the Central Business District, now celebrating its 40th anniversary.
Group Technologies, the Melbourne-based design and installation company, was briefed to specify and supply new audio facilities appropriate for the Hall's different uses.  "Acoustically, it ranks with the best available in Australia," explained GT Director Mark Ladewig; "it has been the venue for numerous commercial recordings for the ABC, Melbourne Symphony Orchestra and various film scores.  In addition to hosting local and world-class performers, it provides ceremonial functions; it is used for small gatherings, even just using the balcony by itself for presentations."
Being a concert hall, the RBH has no proscenium, stage curtains or fly tower.  Its climate-controlled auditorium has fixed seating for up to 1598.  The raked stalls hold up to 1256 seats, with a further 342 seats situated in the balcony.
For the main house PA, GT chose NEXO's GEO M6 compact line arrays.  Left and right clusters used 3x GEO M6B low-mid frequency modules, flown in line above 8x GEO M620 full-range cabinets.  In the centre, a cluster of 6x GEO M620s was rigged in front of a column of 4x LS18 subbass cabinets.  
There are front corner fills of NEXO PS10 full-range loudspeakers to use when there are small gatherings, such as lectures or presentations, taking place in the auditorium.  Front fills are 6x GEO M620 cabinets.  
"We also placed two smaller arrays of 4x GEO M620s flown as delays for the balcony," explained  Mark.  "These were set further back in the hall as sometimes the balcony is used on its own for presentations."  
The entire system in the RBH is powered by NXAMP4X1s and NXAMP4x4s.  All room processing is handled by a Xilica A1616 processor, and Hall technicians have touch panel control of whatever 'mode' they need to recall.  Power distribution is handled a Powerwise PD620M.