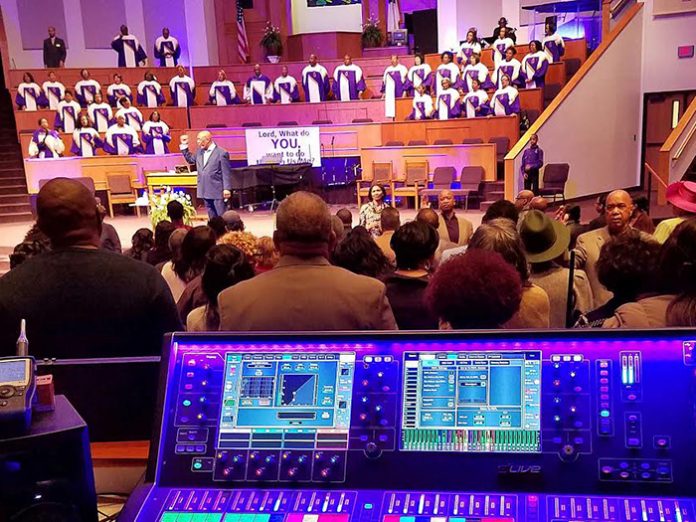 A new Allen & Heath dLive S Class digital system supports Mount Hebron Missionary Baptist's 2000-capacity worship services in Garland, TX, including its streaming broadcasts, frequent music events and an 800-member, all-city women's bible study group. The dLive S Class, which replaced an older digital mixer, consists of an S5000 Surface with Dante networking card, a DM48 MixRack and a DX32 Expander.
Ken Brown Jr, Mt. Hebron's Technical Director, said the previous digital mixer was complex to operate and had limited input capacity, and when combined with an older digital snake, it produced enough latency in the monitor feed to confuse the church's praise musicians. "With the dLive there's no delay," he said. "And the dLive's noise floor is a lot lower so everything just sounds so much better!"
Ken says the dLive's simple workflow, touchscreen setup and ease-of-use features make things simple. When the church's volunteer operators or any outside group log in, the dLive automatically selects a scene designed for their use. "The BSF women's bible study loves that feature," he said. "I don't have to leave them step-by-step instructions."
Mt. Hebron streams its worship services to YouTube and Facebook operating the dLive from a laptop equipped with Allen & Heath's dLive Director control software. "It's almost like having a second dLive Surface," said Ken. He records each worship service in stereo to a USB flash drive and creates a multi-track recording, from the dLive's Dante card, on a laptop with Waves Tracks Live software.
Mt. Hebron's dLive S Class was installed earlier this year by Robert Bernecker of Sefi Consulting, a design-build integrator. During installation, Bernecker updated the dLive S Class with Allen & Heath's version 1.4 firmware which added important new capabilities. "The new DCA Spill feature is awesome!" Ken said. "It brings all of the channels I've assigned to a DCA master up to the top layer and makes the work flow for me and the volunteers so much better."
Ken had used Waves plug-ins with the previous digital mixer but he loves the dLive S Class' internal FX. "The multi-band compressor is just what I need for my vocalists – it's perfect," he said. "And the dLive has all the effects I need for my drums. So I'm not using my Waves plug-ins, and I don't need the Waves feedback modulator either because the dLive's preamps are so amazing."
Mt. Hebron hosts frequent Christian music and other events and the church presents its own Christmas and Easter productions. "I can't wait to see what the dLive does for those!" said Ken. He noted that Bernecker had re-commissioned the church's system prior to installing the dLive. "But, I never really experienced his EQ in my sanctuary. The dLive really brought it to life!"
www.allen-heath.com