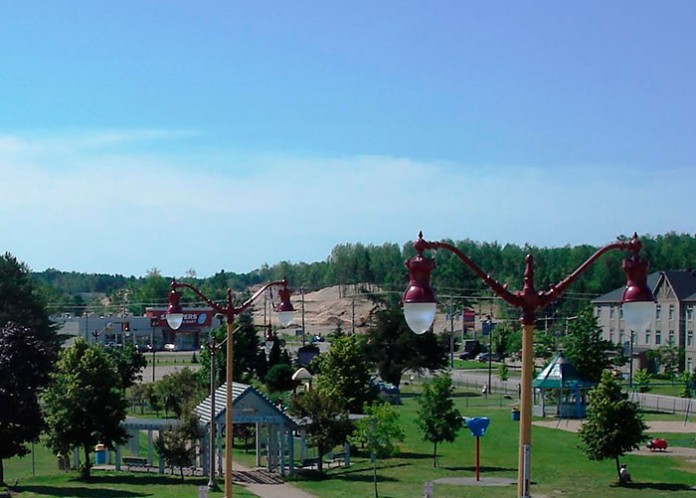 When Mike Montaigne of Montaigne Audio was commissioned to design and install a public address system for the outdoor areas of Petawawa Civic Center, the three critical elements were coverage, clarity and reliability.
Located in the eastern portion of Southern Ontario, the Civic Center is the town's recreational hub, with its vicinity incorporating an arena, library, playground, soccer field, hockey arena, curling baseball field, miniature golf course and a large children's playground amongst its numerous leisure amenities.
Like all large open areas with multiple outdoor activities taking place concurrently there was a need to be able to inform the public in the event of an incident or emergency. This could range from warning of a fast approaching storm, to a lost child. The area to be covered was several acres, with a length of almost half a mile.
With a limited budget Mike opted for a point source system as the most cost-efficient solution and, after researching all options, determined that the entire area could be covered effectively by a single Community RSH-462 loudspeaker system mounted directly on the front of the Civic Center building. The all-weather RSH-462 uses four of Community's proprietary M200 ferrofluid-cooled compression drivers in an exponential FocusedArray horn system, capable of peak sound pressure levels of 150dB within a 60 degree horizontal by 20 degree vertical coverage pattern.
Incorporating an eight-channel mic / line mixer and a precision DSP processor, the system powers the Community loudspeaker with a 2 x 500W bridged power amplifier with DSP control. An LED volume meter gives the operator an indication of the sound level outside. Mike explained: "The choice of equipment provides the audio quality, SPL and coverage required and we configured it to ensure reliability, with surge protection, brick-wall limiting at 47 Volts at the loudspeaker and 400Hz-8kHK bandwidth. A custom 400Hz passive 12dB filter with 6 Amp fuse is final insurance against turn on surges, someone playing with the wiring or settings and catastrophic amp failure. The loudspeaker is fully weather resistant and operated at 70V so we custom designed a waterproof mount for the loudspeaker, transformer and its waterproof enclosure."
"Loudspeaker positioning was critical and the end-results are truly impressive," continued Mike. "Voice is loud and clear with high intelligibility across the whole area, even at the busiest times during multiple events."