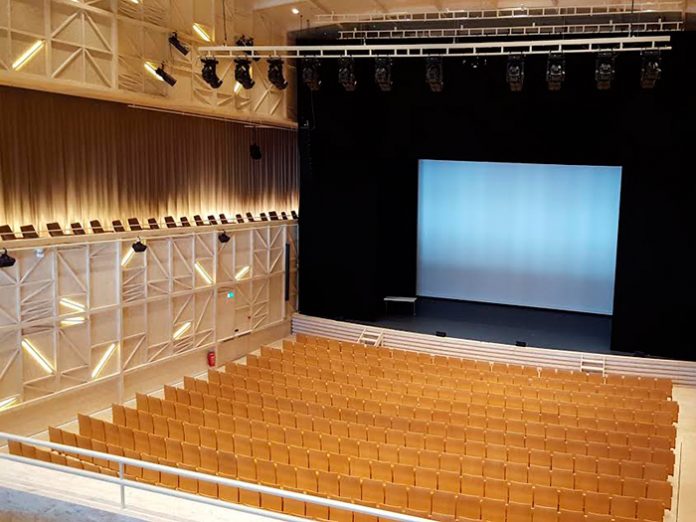 This 900-seat venue sits at the heart of the Paul and Henri Carnal Hall, a visionary building by architect Bernard Tschumi that has recently been added to the campus of the exclusive Rosey boarding school in Rolle, Switzerland. The auditorium, designed by Arup Acoustics, is dedicated to classical music, welcoming world-famous orchestras such as the St Petersburg Philharmonic. With the addition of a Nexo sound reinforcement system, it is also able to stage concerts, musicals, operas, lectures and film shows, as well as a huge range of other events to nourish students' cultural appetites.
ZAP Audio was invited to design a PA system for this elegant hall. ZAP director Frédéric Walder recalls the process, which started in 2014. "Originally, Le Rosey wanted the hall to be un-amplified with only speech reinforcement capability, so we installed a small Active Audio system. Then the remit for the venue was expanded to include cinema presentations in surround sound, and concerts with bands and artists from the school. We were looking for a main PA at around the same time that Nexo launched its new GEO M Series, a scalable low-profile line array which suited the venue perfectly."
In the Concert Hall, there are 900 seats in 406m2, with a 183m2 stage. The 51m2 orchestra pit is located on a platform that can be raised to seating level to create 75 extra seats, or to stage level, adding 50m2 to the stage. A gallery runs around the auditorium.
Frédéric Walder used Nexo's proprietary NS-1 design simulation software to design a LCR system with surround, which has been installed by Auditech.
For the main PA, he deployed two arrays each with twelve GEO M6 cabinets, flown from a dedicated M6 bumper. Sub-bass is provided by two Nexo RS15 sub cabinets, running in cardio mode. An additional four GEO M620s are used for front fill. Stage monitoring is handled by Nexo PS10-R2 wedges.
For surround, there are ten GEO M620 cabinets positioned around the auditorium. The gallery is handled by another six M620s. For the total of fifty GEO M6 cabinets and subs, the amplification is Nexo NXAMP4x4/NXAMP4x1 units, fitted with Dante cards to provide network functionality.
"Although the surround speakers are fixed, the main PA arrays can be easily taken down if necessary, lowered directly into the custom-designed flightcases. The network allows the Hall to move the front-of-house control to a variety of positions," explains Walder.
"Because of the presence of a nearby train station, the hall is a floating room design. The acoustics are magnificent, and, with the addition of the Nexo GEO M6, I would consider this alongside the KKL in Lucerne as the best-sounding modern concert auditorium in Switzerland."
This prestigious installation will give visibility to the Nexo brand in front of some very important people. Institut Le Rosey counts over 5,000 former students in its alumni registry, including generations of dynastic families including Rothschilds, Borgheses, Hohenlohes, Hohenzollerns and Metternichs.