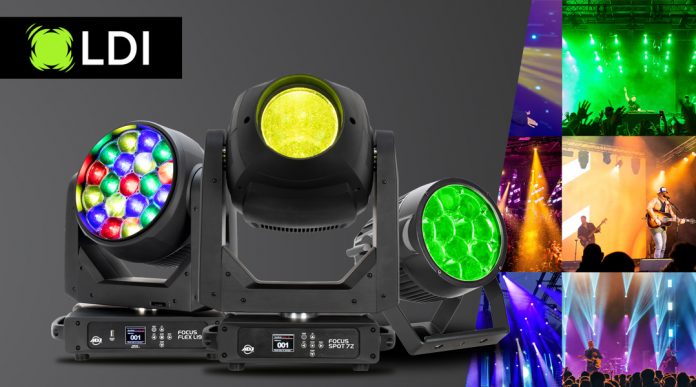 ADJ will showcase its newly evolved range of professional lighting products at LDI with some new products exclusively launched at the show in addition to a light show designed by experience LD Steve Kosiba.
The show will showcase select fixtures from the brand's existing range of fixtures, each specially curated to offer ROI to lighting designers, rental houses, production companies and integrators.
A partner at Squeek Lights, the concert lighting specialist based in New Jersey, Steve Kosiba has extensive experience in the lighting industry.
He joined Squeek Lights after six years at Starlite Productions, where he was head of the automated lighting department, and, before that, spent years working as a house LD at many venues in and around Philadelphia.
With comprehensive knowledge of lighting design and a particular specialism in time-coded programming, Steve is ideally placed to create a show that will stop LDI visitors in the aisles and showcase the full potential of ADJ's product catalogue.
"My first experience with the 'new' ADJ gear was, as with many people in the concert market, the 32 HEX Panel IP," comments Steve. "It is a great fixture, which is very versatile and suitable for side light, foot light or drape light, and can also be used as a blinder, a strobe, or for pixel FX.
"It fills a lot of roles in the Squeek Lights rental inventory, and we recently sold a small venue a whole rig of ADJ HEX fixtures as well. This also included 15 HEX Bar IP and 7P HEX IP units and completely transformed the space.
"When the new Encore Lime fixtures came out, Squeek Lights picked up both the Encore Z7LP and Encore LB15IP. The lime bars are far brighter than our previous generation pixel strips and far sturdier. The zoom pars are fantastic: punchy, with a great zoom range and excellent color.
"We also have dozens of the Jolt Bar FX, which is the best bang for the buck strip strobe on the market. They've been rock solid for us, often going out on tour in our custom pre-rig touring carts.
"While working on ADJ's LDI booth, I've also been really impressed with the Focus Series of automated fixtures, so I wanted to feature as many as possible – even units that have already been out for a year or more."
The LDI Expo 2023 will take place at the Las Vegas Convention Center from December 3 until Tuesday December 5. ADJ will be exhibiting from booth #1443 where, alongside Steve's lightshow, the company's experienced team of product specialists and sales support staff will be on hand to answer questions and provide one-on-one demos.
"When we talk of the 'new ADJ' we're not referring only to our latest product releases but the evolution of the brand which has been ongoing for the past five or more years," explained ADJ USA's Director of Sales, Alfred Gonzales. "ADJ's current catalog of professional lighting solutions are all specifically targeted at the 'middle market' of the industry and have been tried and tested by countless production and rental companies worldwide.
"We have invited Steve Kosiba from Squeek Lights to be our guest LD at this year's show to help demonstrate the full potential of our lighting fixtures."