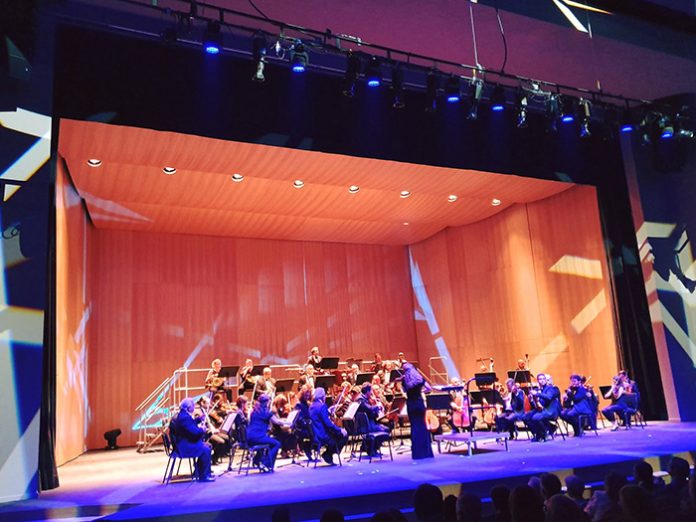 The Corinthian columned façade of Cyprus' largest theatre, the Municipality Théâtre in Nicosia, reflects the island's theatrical heritage, but like a good play, the 1,000-seat venue holds surprises. Stepping inside the classical building, visitors will encounter an advanced and very modern theatrical lighting system made up entirely of 150 CHAUVET Professional LED fixtures.  
Nicosia-base V Hypersound & Light, installed the lighting and audio systems in the building, which reopened on June 18 after being closed for more than a decade. "This was a very big remodeling project, the biggest one ever relating to theatre in our market," said the company's co-founder Kypros Shekkeri. "Regarding the theatrical lighting, the theatre management wanted to have an all-LED system in the building.   
"We successfully won the project by offering a complete solution of compact and cost-efficient LED CHAUVET Professional fixtures," continued Kypros. "However, these lights were more than just affordable, they also offered the performance, versatility and output that were needed to handle the many different types of shows that take place here."
The new lighting system includes 10 Ovation E-160WW and 10 Ovation E-910FC ellipsoidals as well as four Rogue R2 Wash and four Maverick MK2 Spot fixtures on the first bridge. Hung from the second bridge are 10 Ovation E-160WW and 10 Ovation E-910FC ellipsoidal units.
A collection of six Ovation E-260WW and eight Ovation E-910FC as well as four Rogue R2 Wash fixtures are also positioned on motorised counter weights in front of Stage. Other fixtures include:
10 Ovation E-260WW, six COLORado 2-Quad Zoom and four Rogue R2 Wash units on the in-stage manual counter weight 1

Four Rogue R2 Wash, four Maverick MK2 Spot and eight COLORado 2-Quad Zoom units on the in-stage manual counterweight 2

18 Ovation B-565FC cyclorama fixtures.

Two 2 Ovation SP-300CW follow spot units.
For side lighting, Kypros and his associate Vasos Mouzouras relied on eight Ovation E-260WW ellipsoidal and eight Ovation F-265WW Fresnel units divided evenly between stage left and stage right.
The extensive rig gives the theatre a wide variety of options for lighting the diverse range of productions it houses. "Visiting designers and the house LDs can do so many different creative things now," said Kypros. "The Ovation E-910FCs with their lime LEDs and the Rogue washes really open up so many possibilities to create color on stage. The Mavericks give LDs the perfect focus and zoom control, as well as cool colour temperatures. We put together the rig not just for live productions, but also for broadcast, since many of the shows are aired on Cyprus television."
Like all projects of this size, the Municipality Théâtre's new lighting system was the result of a team effort. Kypros noted that contractor Cyfield Group, electrical contractor YTM Stavrides Ltd and stage engineering contractor Chemtrol all contributed to the success of the project. Together, they put together a system that is powerful, versatile, and able to affect colour changes as well as special effects in ways that would have been impossible to imagine at any previous time in the long theatrical history of Cyprus.