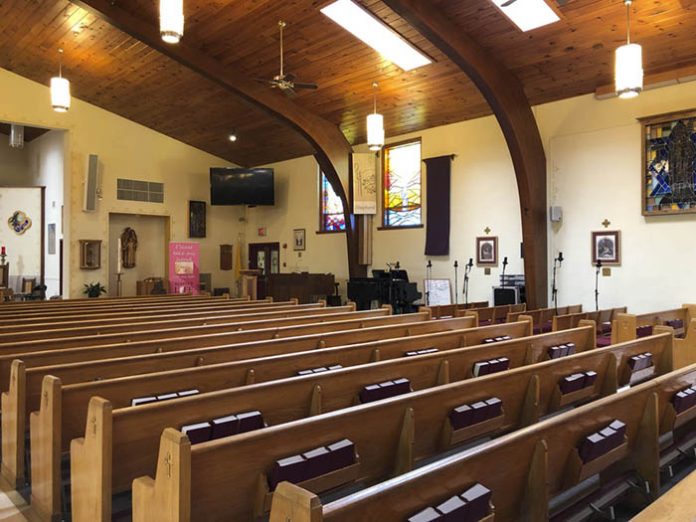 St. Leo the Great Church was established in Lincroft, New Jersey over sixty years ago during the area's suburban boom of the late 1950s. Its beautiful sanctuary seats approximately 800 people but provides tough acoustics for intelligibility, a problem that had previously been dealt unsatisfactorily with several lines of delay loudspeakers. Recently, local AV integration firm Concept Professional Systems designed and installed a beautifully simple new sound reinforcement system at St. Leo the Great Church. Ditching the delays and relying on Danley Sound Labs' famous pattern control and phase-coherent, long distance throw, the church now enjoys intelligible speech and lively music reinforcement from the front pew to the back pew.
"We originally got involved at St. Leo the Great when they called us to service their old system," explained Don Gspann, owner of Concept Professional Systems. "After several years, the old system fell into disrepair to the point that everyone agreed that it was time to start fresh. The space itself is quite reverberant. The walls are all block, the floor is linoleum, and the ceiling is wooden and shallow. That's a tough situation. We had had great success with Danley SBH10 column-form loudspeakers at St. Paul's Ocean Grove Church, another Catholic Church in the area. In fact, that system sounded so fantastic that we kept inviting industry friends just to come check it out. It was easy to imagine that the Danley SBH10s would work a similar miracle at St. Leo the Great."
For proof of concept, Don arranged to bring in a pair of Danley's SBH 10's and the smaller SBH20 column-form loudspeakers for a demo. Like the SBH10 and all of Danley's Synergy Horn loudspeakers, the SBH20 is a true phase-coherent, point-source design. "Everyone was thrilled with the clarity from the front to the back," Don said. "The demo is really what sold the job."
We were a little concerned about where the speakers would be located permanently, in relation to the pulpit and lectern mics, as well as all of the musical elements – piano, choir & orchestra – which are located on the floor in front of the chancel and thus in front of the Danley SBH10s! The musical elements were eventually going to be reinforced during phase two of the project, with other Danley loudspeakers. Fortunately, or unfortunately, the same Danley phase coherence that led to better-than-expected gain-before-feedback in the demo also helps out with the odd arrangement in the permanent installation. "They're still able to reinforce those instruments without trouble," Don said.
The Danley SBH10 has the perfect coverage pattern: 140 degrees horizontal but only 10 degrees vertical, perfect for hitting eardrums but avoiding ceilings and walls. In addition, a pair of SBH10s could cover the entire sanctuary, making the installation to either side of the chancel relatively easy. A BSS Blu-100 DSP system also serves as a behind-the-scenes mixer, and Crown XTi amplifiers power the system.
We went to the first service, dialled things in, and switched out the Father's lectern mic to something that better matched his assertive mic technique noted Don. Everyone is thrilled with the sound, especially the clarity of all the spoken word. It doesn't matter where you sit in the sanctuary; it's all clear and intelligible."
Concluded Joe Manzi, director of finance, operations and development, "The system was a godsend. We had many years of poor communication during our worship services. People were constantly complaining of hearing no sound or the sound was too noisy. This new system allows for uniform distribution of sound throughout the church and in the entranceway. Lectors do not have to scream into the microphones and can deliver God's word in a calm manner. We have received many compliments about the system and people comment that it is a joy to worship at Saint Leo's."