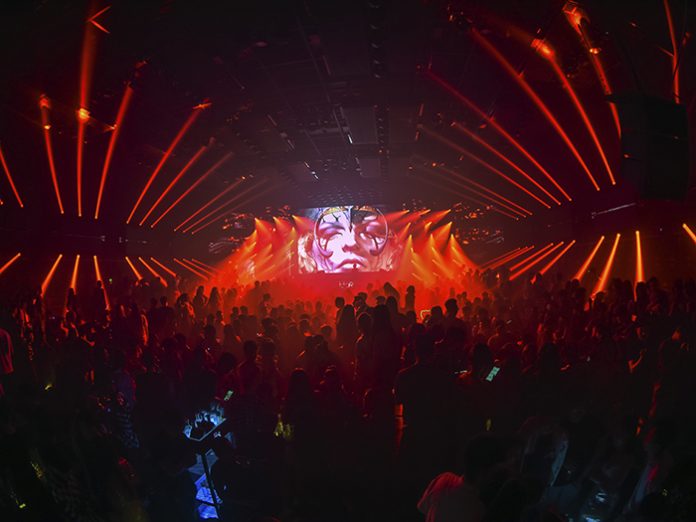 China's latest bbR nightclub has opened in Guangzhou, serving up a heady mix of Hard style, Trance and Drum & Bass to crowds of up to 3,000, through a Martin Audio MLA Compact loudspeaker array.
Owned by Wang Bing, founder of the Lili Marleen club chain, and following the success of bbR in Shenzhen, the installation was carried out by the technical team at Sino Hui Feng Audio, the Martin Audio Chinese distributor.
Seeking a sound system capable of delivering uniform coverage throughout the main 1,200 sq.m room the installers specified an MLA Compact to meet the many different styles and genres being played. "Although the music style is ever-changing, there is only one aim which is to let the audience feel exhilarated," said Luo Chunrong, director of Sino Hui Feng's sound engineering department. "The aim was to match the investor's requirement, with a targeted selection of the most suitable products." He said that the client experienced several sound systems in various showrooms and demo rooms before making his choice.
Between the main and back room Sino Hui Feng designed and optimised two cutting edge systems, with 12 flown MLA Compact in the main room and a combination of W8LMI mini line array and W8LMDI vertically arrayable wide dispersion system in the auxiliary room.
Providing necessary fills and sub frequency reproduction were an assortment of Martin Audio XD15 Blackline3 FX15, B218 and B18 subwoofers, powered by Martin Audio amplifiers in the shape of multiple MA2.8Q, MA6.8Q, MA5.2K and MA12K. System processing was via four of Martin Audio's dedicated DX2 system controllers.
The quality of the sound system certainly met the approval of the owner. "The Martin Audio systems have provided the best experience that I ever had," said Mr. Wang.