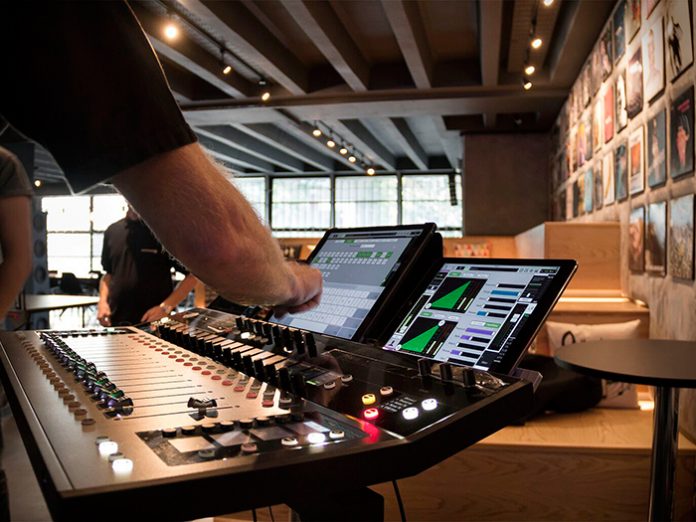 Audio equipment manufacturers Cambridge Audio, recently took the less than conventional step of opening a fully equipped music venue below their London HQ.
Named Melomania, this unlicensed space is for private 'invitation only' events and can cater for up to 200 guests. With a fully equipped DJ booth and a stage for bands, the PA comprises a speaker line-array and amplifiers adapted from the high-spec consumer products that the company is more familiarly associated with.
Melomania has already captured the attention and imagination of some influential music business hitters, none bigger than Warner Music, who chose the venue for the launch and first official listening session of David Bowie's unreleased 1974 album The Gouster With that kind of endorsement, Melomania looks certain to be a hit.
Given the incredible quality of the sound obtainable from this custom-constructed set up, it was essential to Cambridge Audio that every other element in the audio system offered the highest quality and greatest possible flexibility. One very important element in the development of Melomania is Cambridge Audio's own very talented house band, who perform at functions in the venue, making excellence in audio-mixing a prerequisite. In the first instance POLARaudio had supplied a Mackie DL32R which the band had used to great effect but when the chance came to enhance control with Mackie's DC16 Control Surface, there was no hesitation. Adding another level of customisation and speed with unmatched visual feedback, this was the first DC 16 to be sold in the UK. The set up was completed with an XTA DP 448 Digital PA System Controller.
POLARaudio's Dave Ball held a training workshop with the operators of the system in order that they could take maximum advantage of the power on offer. The band were impressed and Melomania now possesses a state of the art audio system that befits its growing reputation.
Sam Meredith is Quality Assurance Engineer at Cambridge Audio, as well as the lead singer in the house band. With more than ten years professional experience as a backline technician and sound engineer, he was in no doubt that the Mackie AXIS package was perfect for the job: "As a technology based company, we like to keep an eye on any new technology surrounding music as a whole, not just hi-fi. When the house band was formed we chose the DL806 to be used for rehearsals and mid-size gigs as it allowed us to wirelessly control the sound from stage along with giving us the processing and effects of a much larger digital desk. When the problem of needing a larger mixer for the venue came up, the DL32R was a no-brainer, as we could continue using the interface we knew but be able to mic up and live record a full band.
As great as using the iPad app is to be able to walk around the room making adjustments to the mix, any sound engineer knows that there's nothing like having some physical buttons and knobs in front of you to control everything. This is why we jumped on the DC16 when we heard about it.
The whole system is nice and compact while still providing as much control and great sound as any other rival professional digital mixing console. The rack mountable DL32R means it can easily be stored with all the system amps etc, saving precious space in a mid-size venue.
The use of the app as an additional control point means that the bands on stage can have a hand in mixing their own monitors making life a lot easier and happier on stage! Mackie have put together a great system here. The design of the app means everything is laid out in a way that makes sense to engineers both amateur and professional. The level of customisable sections to inputs/outputs etc means that AXIS could be used in any venue that is thrown at it. Moving around the app and desk is almost effortless and any needed functions are, for the most part, only a click away. This really is a great addition to any mid-size venue".
Reflecting on the training from POLARaudio's Dave Ball, Sam explained that the session was attended by audio professionals with many years experience, alongside engineers in the early learning stages of their careers. He concluded: "Dave gave an excellent tutorial on how to use and what can be achieved with the AXIS system and everyone came away from his training having learnt something new about the system, even if they had already used it. Everything was covered from setting up a channel to re-patching all the inputs/outputs, demonstrating the sheer power and versatility it has to offer. Everyone who attended agreed that it was a very worthwhile experience and said that they couldn't wait to actually start mixing some acts in a real live situation using what they had learnt".