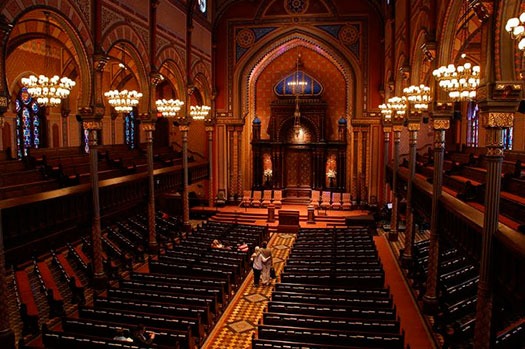 When New York City's historic Central Synagogue decided it was time to upgrade its existing audio system, it turned to Masque Sound, a leading theatrical sound reinforcement, installation and design company, for the delicate and complicated project.
Built in 1872 in the Moorish Revival style, Central Synagogue was designed to resemble Budapest's Dohány Street Synagogue. Designed by Henry Fernbach, Central Synagogue was designated a New York City Landmark in 1966 and a National Historic Landmark in 1975. It is the oldest synagogue in continuous use in New York City and is among the oldest synagogue buildings still standing in the United States. The building was restored in 2001 in its original style after an accidental fire in August 1998.
"We had a good sound system in place at Central Synagogue, but it just wasn't meeting our current needs," said Jesse Lauter, audio-visual manager, Central Synagogue. "Central Synagogue has long been recognised for its remarkable music program, first-rate singers and Friday night services that are one of the most viewed of any Jewish services that are live streamed, so it is critical to have the best sound system possible."
After meeting with multiple designers and integrators, Central Synagogue awarded the upgrade design project to Akustiks, a leading acoustical consultation firm. "Anthony Nittoli at Akustiks recommended Masque Sound to supply the equipment and installation services, and we couldn't be happier," added Jesse. "Gabriel Bennett and the team at Masque Sound were great. This was not an easy project, as we were dealing with a very old and historic building, and the professionalism that Masque Sound brought to the table every day was fantastic."
One of the main components of the audio upgrade was the Synagogue's sanctuary, which needed to be capable of loud amplification for music/concerts, detailed and accurate reinforcement for voice, and give Audio visual Managers the ability to adjust the acoustics of the space. Also included in the install was an updated Assistive Listening System that offers better coverage with a higher integrity signal than previously experienced in the space. A new Electro-Voice 70 V amplifier that provides a cleaner signal for program distribution to the back-of-house areas of the Synagogue was also installed. At the heart of the sanctuary upgrade were two main systems. For reinforcement, a fully redundant Dante audio network was employed as the backbone of the system. Acoustic enhancement was built around E-coustic Systems electro-acoustic enhancement products.
Of the two main systems, the reinforcement configuration utilises a variety of Yamaha R-Series and other Dante-enabled I/O devices, incorporates a Yamaha CL3 at front-of-house, and features a D&B Audiotechnik speaker system. A Shure wireless microphone package was also included to help round the system out. To enhance the acoustics, the E-coustic Systems' electro-acoustic enhancement products provided by Masque Sound were designed to transparently augment the natural acoustics of the space to more closely resemble the physical size and impact of the Synagogue's sanctuary. In addition, the sanctuary has a wonderful pipe organ that demands the space be more reverberant than what is typically appropriate for more modern musical styles. It was also important to amplify the spoken portions of the services; E-coustic Systems allows for on-the-fly tailoring of the acoustics within the space so that a variety of acoustical demands can be met within a single service, concert, lecture or event, all from the wireless touch of an iPad.
In addition to the sanctuary equipment, Masque Sound supplied a new Yamaha CL1 console for broadcast and archival purposes, and loaded a Dante-MY16-AUD card into the existing Yamaha LS9 mixer in the pavilion. This added the ability to provide or receive mixes from any of the spaces, including the sanctuary, pavilion or control room, all of which can be patched using Dante Controller. Also installed is Dante Virtual Soundcard with the existing Pro Tools configuration that offers a cleaner interconnect between devices and a more versatile archive paradigm.
Another phase of the upgrade addressed the Synagogue's Pavilion room. This space is a true multi-purpose room, handling activities such as weddings, summer services, concerts, movie presentations, and more. The room is attached to an atrium, kitchen, stage, and dance floor. Masque Sound placed a Danley loudspeaker system in the room to provide the sourcing and power a concert or event requires, adding the new JBL ceiling speakers for multi-zone coverage. Rane Halogen DSP helps event technicians more easily control and route audio that might otherwise be too complex to manage with another system.
"This was a very long and difficult project, but in the end we are thrilled with the results," said Jesse. "Just removing the existing DSP, amplifier, speakers, rigging and rack equipment was a huge undertaking in and of itself. Then we had to run new data, speaker and coax cable, along with speakers and all of the other equipment, which made this task nearly impossible. The crew at Masque Sound worked very long hours under less-than-ideal time constraints and did a wonderful job. I can truly say that Central Synagogue has one of the best sound systems of any house of worship in the world."