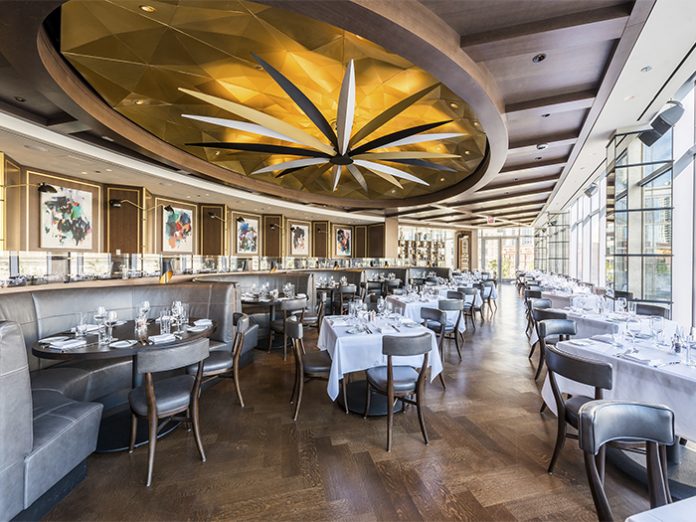 Encompass AV recently supplied a Martin Audio CDD soundsystem for the exclusive
Gibsons Italia restaurant located on the Chicago River. The restaurant has quickly become known for its sophisticated combination of Italian food and steaks and luxurious setting.
A $20m build-out, Gibsons Italia is a super high end four-storey restaurant, bar
and lounge with a dining space for private functions on the roof deck with floor to
ceiling windows that offer amazing views of the river and skyline. The Gibsons Group is the leading restaurant group in Chicago.
Encompass owner Tim Pickett explained: "We were contracted to provide exceptional
sound throughout the entire venue and weren't given a budget because the owners just
wanted it to be the highest quality. So, we selected the Martin Audio CDD Series
because it's worked so well for us in other restaurant and club installs." For the luxury bar and lounge on the second floor, there are 22 Martin Audio CDD6's, four Martin Audio CDD5's and 12 Martin Audio CDD8's mounted in the ceiling with brackets and facing out and slightly angled down.
"There is a very high-end dining room on the third floor," Tim added, "which has 20 CDD6's around the perimeter of the space facing out and angled down, and a Martin Audio C6.8T in-ceiling speaker above each booth."
The fourth-floor roof deck has a larger system equipped with eight Martin Audio CDD10's and two CSX118 subs. Some of the speakers are mounted to the aluminium structure using wall brackets and some to a soffit on the ceiling with yoke brackets. Tim explained: "It's an aluminium and glass structure with a retractable roof, a very nice bar and a versatile, lounge space with nice furniture that is rented out for private events."