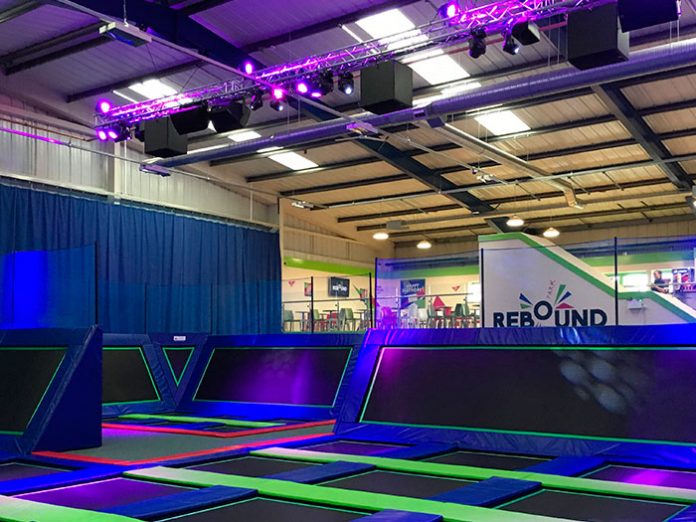 Rebound, the new £1m trampoline park in Hull has been opened by Monkey Bizness, specialists in indoor play centres.
The first in the city, it contains up to 75 trampolines, tumble tracks, foam pits, a cafeteria, and a Martin Audio sound system to cover all activities.
Part of a complete integrated audio-visual and lighting package, it was provided and installed by Kent-based Old Barn Audio, who were awarded the contract after carrying out work in previous venues for director, Nick Stevenson.
The brief from the client was clear: that the sound system needed to be as if specified for a nightclub, and should not be bettered by anything else in the area. Therefore OBA had no hesitation in recommending Martin Audio's new-patented CDD Coaxial Differential Dispersion installation range.
First, they equipped the ceiling of the large 35m x 40m industrial unit with 28m-box truss, flown from the apex of the building. Mounted to this are six CDD15, complemented by six matched CSX118 (1 x 18") subs, and four further CDD8 Downfill — as well as 44 automated moving lighting heads. In a separate Induction Room, where the training videos are presented on 55" LCD flat screen TVs, sound is reinforced by a further four CDD8 (8") speakers.
Phil Clark explained that the venue would also operate after dark for parties — hence the need for a powerful sound system. The CDD15s are angled so they hit the balcony, and therefore the CDD8's are pointed directly down to fill the hole in the coverage pattern., which worked extremely well.
OBA has quickly become one of the largest UK customers for the new CDD series and in Hull they ensured the sound was fully optimised, using Smaart software to delay the subs and tune the room.
Phil went on to explain the design: "Because it's a trampoline room it would have been impractical to put the subs on the ground. Also the overhead rig had to go in right at the start because once the trampolines were in place it would not have been possible to gain access to the roof."
Presets are stored in Symetrix Radius 12in/12 out DSP, with two 22" GUI's offering intuitive touch screen fader banks, designed for non-technical personnel. These offer multiple source selection via serial port control for lights and sound. There is a BGM plug-in point at Reception and DJ input on the mezzanine balcony, while the client also requested a series of pre-recorded messages stating, for instance, when time is up. This required a bespoke design for audio, lighting, messaging and control, which is programmed to operate via serial output codes from the Radius to a ChamSys desk.
Monkey Bizness General Manager, Wendy Donnelly also provided concluding comments: "I asked OBA to 'lift the roof off the building' with the sound system as I wanted to attract a more teenage market as well as youngsters with the sound levels. They have done that and more; in fact we're probably not reaching a third of the system's capacity. The people at OBA are an amazing bunch to work with. It's phenomenal what they have given us and we've received a number of highly positive comments — including one from the owner of a local nightclub who was extremely impressed with our state of the art sound system."
https://martin-audio.com