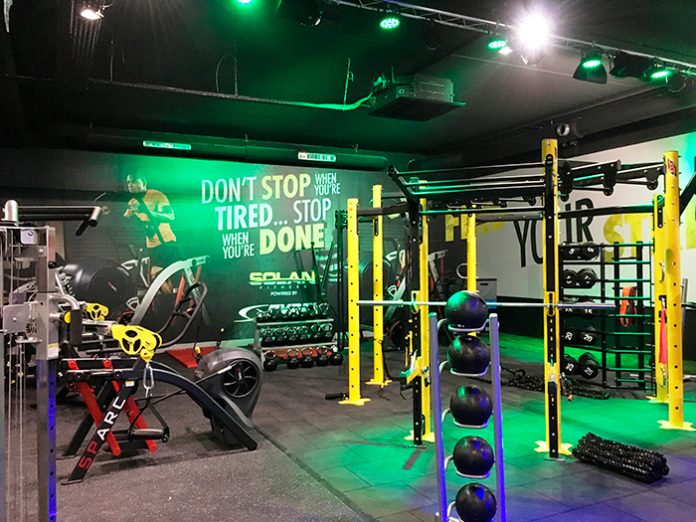 Solan Fitness has opened its latest fitness centre following a £1.2m development in East Grinstead, Sussex.
The 15,500 sq.ft. strength training facility, situated in the town's Atrium Building, has developed out of the martial arts concept at the company's pilot venue in Orpington. All zones — including Cardio, Weights, Spin and Dance/Fitness — are serviced by Martin Audio CDD loudspeaker systems, specified and provided by Old Barn Audio.
Young entrepreneur Josh Ahmet had originally contacted the Martin Audio partners, for whom fitness clubs is one of their specialities, following an internet search. Director, Neil Kavanagh, was soon undertaking a site survey, noting that the facility also included a touchscreen accessible FitboxVirtual, a powerful technology platform to run virtual classes in the fitness centre out of hours.
Mindful of the high degree of reverberation — created not only by the open spaces but the ubiquity of glass and mirrors — he opted to focus the CDD speakers vertically downwards from the overhead lighting trusses to create directionality and avoid spillage.
While the same music source is delivered to the Cardio, Weights and Changing Rooms, specially profiled feeds are delivered independently to the Spinning Classes and Dance/Fitness Studio, which require more specific workout music. Other sources include the FitboxVirtual soundtrack, while the installers have provided an iPod input for yet another alternative music source.
In the Cardio Zone OBA has installed eight CDD5 from the overhead truss, and in the Weights area there are 12 CDD6 mounted similarly.
Kavanagh has opted for a more conventional wall-mounted solution in the Spin and Dance areas. The pair of CDD8 is reinforced by a CSX218 sub, reflecting the high-intensity requirement of Spinning classes, with the Instructor on headset mic; however the Dance Studio is also capable of high SPL, with a pair of CDD10's providing the sound reinforcement.
Finally, a DJ plug-in point has been provided, and this comes into play one night a week, with dance music pumped out to the three main zones.
The entire system is run low impedance, driven by multi-channel amplifiers in groups of four, and routed via three Cloud zoners. OBA also provided two 3m projection screens and short-throw projector for FitboxVirtual, which delivers six different 40-minute workouts.
Explaining his design rationale, Neil Kavanagh said, "The idea was to make the sound very linear, so that you can't tell where one zone ends and the other begins. We carefully worked out the dispersion of the speakers.
"We love the output and performance of the entire CDD range but in particular CDD6, which is really kicking for its size," he says.
And his overall assessment? "The sound system is phenomenal, and the client is happy not only with the high SPL and clarity of the loudspeaker system, but also with the degree of controllability we have given him."