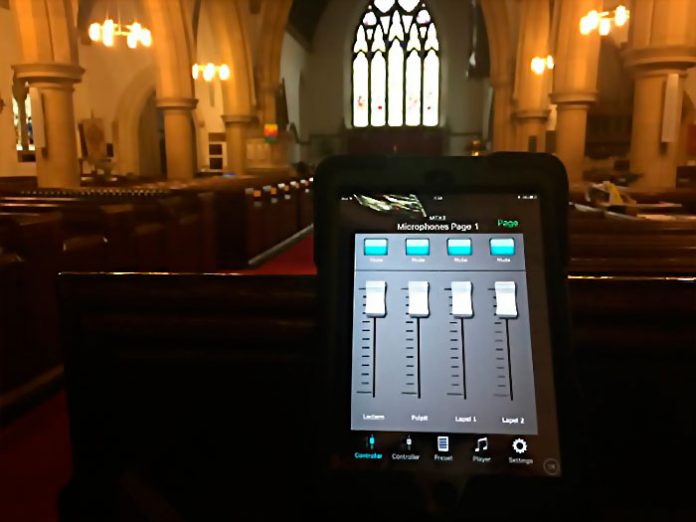 As houses of worship strive to improve the audio quality of their services and other hosted events, Yamaha Commercial Installation Solutions (CIS) products are the ideal solution for a market where ease of installation, cost-effectiveness, flexibility and simple operation are key requirements. Three London churches have recently begun enjoying the many benefits that CIS has to offer.
Yamaha Commercial Audio products already feature in a number of high profile UK houses of worship; these include London's Westminster Abbey and St Martin in the Fields. The CIS range has also seen regular adoption in the German house of worship (HoW) market; the Yamaha MTX3 matrix mixer being leading installer Klartext AV's processor of choice.
The CIS series is now making significant inroads into the UK market, with installer RG Jones Sound Engineering recently equipping three London churches with MTX3s, XMV4280 multi-channel amplifiers and DCP1V4S wall-mounted controllers.
The three churches – St John the Evangelist in Great Stanmore (built 1849), St Olave's in Mitcham (1931) and another St John the Evangelist in Kensal Green (1844) – are all architecturally very different, but share the same interior features of high ceilings and flat, reflective surfaces. The latter pose a particular risk of feedback, but the MTX3's comprehensive DSP tames the acoustics.
RG Jones Project Engineer, Jeff Woodford commented: "We chose the MTX3 for these installations because of its DSP feature set and excellent cost-effectiveness. It enables a sound system to be set up to a high standard using the onboard features like individual output EQ, crossover and delays, with individual EQ and dynamic processing on each input channel."
The Great Stanmore system is designed to reinforce services and other events with wired and wireless mics, music playback on multiple media formats and, indeed, a need for wireless control.
Jeff continued by stating that using Yamaha's Wireless DCP Apple / Android app, the wireless control was another key reason for choosing the MTX3. It is the only processor at this price point which is capable of wireless control; if it didn't have the facility, then a more expensive unit would have had to be used.
Another advantage of the CIS range for the HoW market is Yamaha's YDIF protocol. This reduces cabling time – significantly speeding up the installation process.
YDIF makes installation so much quicker, as no analogue signal cables are required between the DSP and amplifier. All that is required is for the user to just plug in two CAT5 patch cables and it's done.
At St Olave's and St John the Evangelist in Kensal Green, the key was being able to maintain high audio quality, but with simple controls for inexperienced users.
Jeff concluded the following: "This type of quick wiring with YDIF all helps, mostly when we need to have the new systems installed and set up in only a week, between weekend services.The MTX3 allowed us to meticulously control the dynamics of the microphones and loudspeaker outputs during set up and commissioning, but with the DCP1V4S allowing the system to be controlled at the touch of a button."