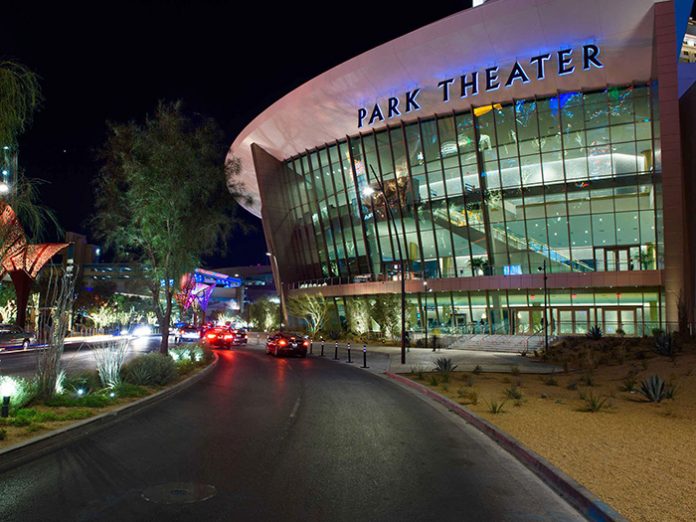 Scéno Plus and Solotech design and install a highly immersive K2 system at MGM Resorts International's recently-opened 6,300-capacity Park Theatre.
MGM Resorts International's Park Theatre is the newest jewel on the Las Vegas Strip as well as the city's largest and most technologically advanced venue to address the latest trend in theatrical design—immersiveness. Hosting an audience of 5,200 in its standard configuration, the $90M theatre, which is located adjacent to the Monte Carlo Resort and Casino, can flexibly be expanded to accommodate 5,800 and even up to 6,300 people at peak capacity. However, regardless of the configuration, every seat feels like it's "fifth row centre" thanks, in large part, to an L-Acoustics K2 loudspeaker system specified by Montréal-based Scéno Plus and integrated by Solotech's Las Vegas division.
Although the 150,000-square-foot performance space is roughly four times the size of the Lance Burton Theatre, which previously occupied the site, the Park Theater feels remarkably intimate with its rear row of seating less than 150 feet from the stage. Officially opening its doors in mid-December with a double-bill of Stevie Nicks and The Pretenders, the theater has already booked an impressive series of "extended engagements" with top artists like Bruno Mars, Cher and Ricky Martin, helping to firmly establish the new venue as one of the Strip's top live concert environments.
In true Vegas style, the room's technology is nothing short of dazzling, including a projection mapping system that scales 260 feet across the top of the stage and onto 50-foot-high screens on either side, illuminated by seven HD projectors and two 4K projectors capable of 3D imagery and more. To sonically match the stunning visual effects, Scéno Plus specified a true LCR system with left/right stereo line arrays of K2 elements and K1-SB subs, with dialog/lead vocals routed through a center cluster of Kara as its own channel. Created in Soundvision, this system design was deemed the ideal solution to offer an immersive, full-range (35Hz-20kHz) audio experience evenly and consistently across every seat in the house thanks to the K2's PANFLEX horizontal steering, which focuses the energy on the audience and away from the walls.
"The challenge here was to provide a truly immersive audio experience that was as amazing as the video projection," explained Scéno Plus AV Designer Simon Léonard. "Plus, we had to provide a rider-friendly system that can meet the expectations and requirements of the biggest theatrical shows and concerts. L-Acoustics' line source arrays have earned a reputation for delivering remarkable vocal presence and projection, and their consistent sonic signature eliminates coverage seams in the audience, creating a very intimate concert experience."
Also chosen for their uncolored sound and exceptional power-versus-size ratio, the K2 arrays and other speaker elements had to be able to clearly and powerfully perform despite being hidden behind the projection screens that comprise the stage's huge 7,500-square-foot proscenium.
"We had a very big space to cover and it had to be done from behind the screens," explained Simon. "Accuracy of mappings and mechanical data were instrumental, and we required a highly efficient, predictable and accurate system. Plus the system had to be reliable and well renowned—it had to be spot-on in every sense. And the K2 solution caters for all of that while maintaining a clear stereo image no matter where you're sitting in the room. It's really quite amazing and, in my opinion, very unique."
The sound system at the Park Theater today consists of two hangs comprising 16 K2 enclosures and six K1-SB subwoofers per side flanking a center cluster made up of 14 Kara boxes and four ARCS II outfill enclosures. A dozen SB28 subs are ground-stacked down below to anchor the system's generous low-end, while eight X8 and two X12 coaxial enclosures are distributed across the 135-foot-wide stage to further extend the coverage and frequency response of the mains. Ten additional X8s serve as under-balcony fills, with the entire PA system powered and processed by 21 LA8 amplified controllers.
Simon also expressed his appreciation for input from MGM, Marnell Companies (architects), Martin Harris, Solotech and L-Acoustics "for their work and support in this team effort to bring this project to life."