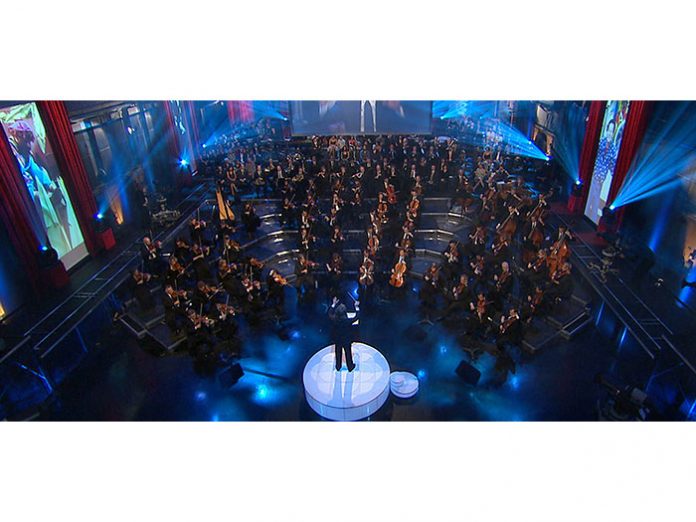 CBC's Studio 42 at Maison Radio-Canada in Montréal is to Canadian television what a legendary room like Studio 8H in Rockefeller Centre is to US broadcasting history. Coincidentally first opened 42 years ago, the flagship studio has been used for countless awards ceremonies, talk shows, concerts and other live-event programs over its four-plus decades.
Earlier this year, "Le Studio", as it's known to millions of Canadians, underwent a significant technical upgrade. Included in that was a new sound systems for Studio 42's audience seating, and for the Grand Dame of Canadian broadcasting, only the best would do—L-Acoustics ARCS WiFo, which Radio-Canada Systems Designer Michel Desjardins first heard at AES 2015 in New York City.
Designed by Radio-Canada's technical service team and installed by Solotech, the new sound system comprises one L-Acoustics ARCS Focus enclosure plus one ARCS Wide flown under two SB18 subwoofers per side, with two additional ARCS Focus enclosures per side covering the auditorium's balcony. Four L-Acoustics X8 enclosures are positioned under the balcony while six 5XT enclosures serve as front fills. Four additional X8s plus four X12 enclosures are used as near fills, and all of the venue's existing stage wedges were replaced with 24 X15HiQ enclosures. A grand total of 22 LA4X amplified controllers power and process the entire system, including all of the stage monitors.
Le Studio has had the same audio system for the last 20 years; hence, an upgrade was a necessity," explains Maurice Latour, Solotech's sales representative for broadcast applications, who worked closely with Solotech Senior Audio Project Manager David Brazeau and Solotech Integration System Designer Sylvain Lemay, as well as L-Acoustics' Head of Application, Install, André Pichette, who performed the system calibration.
Latour says Studio 42 presented several challenges. "The most important of them were the reflections on stage and keeping the noise floor on stage as low as possible, while still giving a good audio level for the monitors," he says. "They also wanted flexibility with the system, to add or remove speaker zones, so being able to move seamlessly between the different cabinet types was important".
They received all of that and more with the L-Acoustics ARCS WiFo setup: the coverage was complete and even, and the quality of the sound was, in a word, magnifique. "From the first listening, the client was completely impressed with the quality and the intelligibility of the sound provided by their new system," adds Latour. "It was a complete success worthy of such an historical studio."
Sylvain Lemay agrees. "When considering ARCS WiFo's precise directivity, high versatility and exceptional value, Michel's choice was absolutely the right one for this project," he says. "Plus, the incredible sound quality of the L-Acoustics systems will undoubtedly continue to help position Studio 42 at the top of the broadcasting studio market for many more years to come".
https://www.l-acoustics.com/